OHS beach volleyball brings pride to campus with State Championship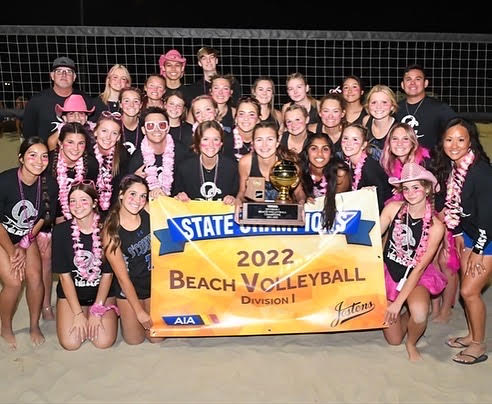 Varsity:
As the 2021-2022 school year comes to an end, the OHS varsity beach volleyball girls made sure to make this season filled with unforgettable moments and incredible plays. Now as the Arizona state champions, beating Xavier Prep 4-1, they've proven that they are a force to be reckoned with.
 With both levels of the OHS beach volleyball program being able to shine and break barriers, the 2021-2022 season is only further proof that the talent amongst these athletes is phenomenal.
"The talent is unbelievable. we have seven D1 athletes committed to play at the next level this year," said Jamey Spartz, beach volleyball coach. 
Every season, every athlete is welcomed with numerous challenges they will have to overcome and this season was no exception.
"We have had our challenges…but I always tell the players, you know, things happen for a reason and sometimes you may not like what you see at the moment but at the end the reward is there," Spartz said.
Luckily, the OHS beach volleyball fought through and got to that rewarding feeling of overcoming each obstacle. They realized where improvements were needed if they were truly intent in achieving their goals.
"We lost a game when we shouldn't have but now we're playing a lot better and winning 5-0 so hopefully that will continue," said Sydnee Broadway, senior. "We work through it, everyone talked with each other and we figured it out, and now we just play a lot better as a team."
Lessons were learned from each adversity the team faced and the athletes credit their success to those lessons, one of those successes being when they beat Xavier Prep the first time earlier in the season.
"Xavier, who has been the eight time state champion…we beat them 5-0. Even though we swept them, it wasn't an easy match; every single match was close," Spartz said.
Beating such a respectable and renowned champion team like Xavier Prep, not just once but twice, is something the girls should be applauded for, as it is no easy feat. 
"If we're in this to win, we got to step up our game play and go full out every single game. I think that's how we ended up playing so well against our rival Xavier," said Ashlyn Rough, senior.
Now, each season is not just enjoyable for the athletes because of the wins they have, it is also the team and the bonds they make. Having the seniors take the lead in the team spirit and uniting the team has been one of the focuses of the senior athletes.
"Our team… we have a lot of fun together and we have a lot of chemistry," Broadway said. "I try to remind my team too of what we're working for and what we have worked for, so hopefully it'll all just pay off in the end."
The seniors have taken it as their responsibility to make sure they are the true leaders and role models the team is in need of.
"I think leadership, as a senior, I think it's really important to show especially our freshman and seniors on varsity to see this is how we role and to be good role models," Rough said. "We've been working on cheers as a team, more team atmosphere stuff. We're all just trying to go out as a team and really show that we're united as a team."
Beach volleyball, like many sports, is highly competitive and the proper environment is needed for players to truly grow in such a sport. 
"Ultimately, we're just building the culture of a highly competitive atmosphere, at the same doing what's best for the team," Spartz said. "It doesn't matter how old you are, it's about the efforts that you put in, the successes that you have, the results you have, so we're just trying to build that."
As the seniors prepare to graduate, some even playing beach volleyball at the collegiate level, it is up to this year's juniors to develop into the leaders they are going to have to be next season.
"We do have a core group of juniors that's been really invested, willing to do what's best for the team," Spartz said. "I think next year those juniors are going to see that they're leadership is going to be a positive influence."
Practice makes perfect and it is something that heavily applies to beach volleyball. The more games and practices these girls go through, the better they proceed to get.
"Probably just experience, this game is a veterans sport, people who've played it the longest are usually the best at it," Broadway said. "It's usually strategy so just playing more and more over the years is honestly what's helped me the most and perfecting shots and everything."
Ending the season, all these girls are taking experience and lessons they have learned, whether it is about plays or the mental game and how to be the best teammate.
"Just being very open minded and versatile as a player and as a teammate," Rough said. "You're going to have to be able to play with everyone, be able to cheer for everyone, be able to just be that puzzle piece that can be stuck anywhere that fits for the team."
After facing low moments, these girls have come back stronger than ever and more strategic than before. This season has taught them to always be at your best no matter which game it is or how many wins you previously had.
"Biggest thing is discipline…staying consistent, when you have a really, really strong game the first set and then you lose focus, so staying consistent that's what we're trying to focus on," Spartz said. "Playing the mental game as well, staying strong the whole game."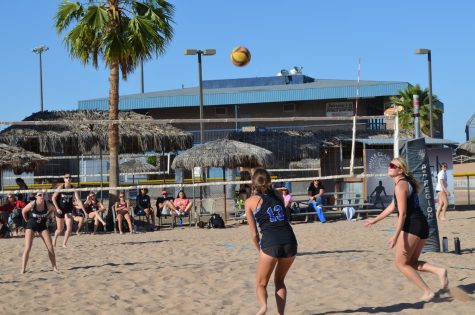 JV:
OHS beach volleyball initially was a sport that was mainly focused on its varsity team. But this year, the JV program has gotten their well-deserved time to prove themselves on the sand.
"Because of the popularity of beach [volleyball], we felt like if we kept these girls to train and get the love of the game, maybe we could start building that culture. This year, I feel like we were officially able to have a JV program on the roster through the state," Spartz said.
A team's biggest strength is their unity and OHS beach volleyball ensures that both the JV and varsity teams are united and whole.
"The biggest thing we talked about is that we want to build the team as one instead of separating it," Spartz said.
The unity has definitely shown to be helpful for these athletes, not only in their play but also their team mentality.
"I feel like everyone [is] coming together and working together…just having good practices and a good time," said Alyssa Flores, sophomore. "Knowing that you have to be in charge on the court because there's only two players, so you have to be more involved."
The JV team also started out strong, beating Desert Vista. Just like varsity, these players are practicing putting in the effort in every game no matter what.
"Winning the season opener, it was really fun," said Natalie Gilbert, freshman. "It wasn't even close."
JV has had their fair share of struggles, but that has not stopped them from succeeding throughout their season.
"Any team does, the adversity is when players are struggling, they're still finding ways to come together, it's made the team stronger, bond more, and they are more determined," Spartz said.
As any athlete feels at some point in their season, doubts about their skills can be really discouraging. But fortunately, this is just another adversity that the girls have been able to get through.
"I know I doubt myself so to have your teammates on the sidelines and help you out means a lot," Flores said.
The JV team's biggest supporter throughout the season has been the varsity team. Both teams strive to be the epitome of sportsmanship.
"Mostly the older girls, them just being there to support us and talk about the problems with us and have everyone come together and say what they want to say," Flores said. "Being around other people who know what they're doing, it helps."
To jump over adversity, players have been learning and training to give their all whenever they are on the sand.
"Put all the focus and effort in our practices," Gilbert said. "Getting over what happened [and] not carrying it along and having a lump on your back."
This team concentrates on being together and supportive above all, and in the end, it is something that worked out for them. 
"I think these JV girls, freshmen, sophomores, feel like they're definitely welcomed as they are just as important as anyone else so we're trying to build that culture just as one," Spartz said.