Top 15 NFL Draft prospect 2021
The NFL draft is something that fans look forward to every year, making this year no different. There is an elite selection of prospects this year and that these top 15 deserve the most recognition.
The number 15th guy on the top NFL draft prospects is Gregory Rousseau. Rousseau is a redshirt sophomore who stands at a towering 6'7 and 265lbs, coming out of Miami, Florida. He is a physical freak. He has long arms and an enormous wingspan. He also has experience on the edge and in the interior, produced in the ACC as a freshman.  He has a high football IQ quality run defense, also has a lot of potential but is a very raw prospect. Most of his sacks were more clean up than him doing everything on his own or when he was the second man in. He also has a lack of tape he opted out of this season so it brings up concerns about if he was a one year wonder. Which also leads into my next point: lack of experience also no real counter move or power moves as his size and weight which worries a lot of people.
People put him at 15 because of the potential of this player. He is primed to be a great player but the reason he's at number 15 is because he has a very low floor and is a boom or bust guy.  Some Pro Comparisons he has are Deforest Buckner, Montez Sweat, Matthew Judan and Danielle Hunter. Some team fits for him are the Ravens, Raiders, Cardinals and the Giants.  
Next on the list is Trey Lance (RS),  Sophomore who is 6'4 226 lbs from North Dakota State. He has a winning mentality, deep accuracy, arm strength and ball security, good pocket presence, and he can make plays after contact decision making. Some of his weaknesses are his medium accuracy and he played D2 and not D1 and played for the college who won the national championship eight of the last nine years. So the level of competition is a concern, priority of the deep ball and he tries to stay away from other throws such as short and medium throws as much as possible. He does not come off first read often, small sample size only one year as the starter. He has a tuck and run mentality, he is very  mobile, he has a cannon of an arm but there are a lot of concerns about his skill set.He needs to work on a lot of short to medium throws and needs time to devople. Some Pro comparisons are smaller with better arm Cam Newton. Some Team Fits are the Panthers, Football Team, Lions and the Falcons.
Number 13 on the list is Patrick Surtain II, junior, who is 6'2 202 Ilbs from Alabama.
He is very experienced, improved tackler, great shadowing of receivers, great man converge skills, makes plays on the ball, no penalties, lack of targets, prototypical size, b press coverage cornerback in the draft, great technique physically but he has a lack of elite speed also beatable on deep routes, turns his back on WR alot lack of ball skills and lack of zone reps. Analysts still think Caleb Farley is better but  getting to see him more as a mid to short route defender and scouts think it holds him back. He can't really cover the deep ball and his lack of speed worries me in today's game. Some pro comparisons are Marlon Humpfrey, Jalen Ramsey, James Bradberry and Stephon Gilmore. Some Team fits are the Panthers, Broncos, Cowboys, and the Eagles. 
Next player on the  list is Caleb Farley, redshirt junior, who is 6'2 207lbs from Virginia Tech. He has elite athleticism at 6'2 WR background, great size for an outside corner pass defending production is excellent, great instincts and hands also plays the ball very well and has great speed. He does have some injury concerns, his zone coverage is minimal, he has one good year and is not a great tackler. He's big and fast and can play great in man coverage. He Has great instincts,as a corner, but has some concerns. Other than the injuries all of his weaknesses can be fixed and I find him to be the best corner in the draft.  Some pro Comparisons for him are  Denzel Ward, Antionio Cromartie, Bryon Jones, and Jimmy smith. Some team fits are Forty Niners, Bears, and the Vikings 
Number 11 on my list is Kwity Paye, Senior,  who is 6'6 272lbs from  Michigan. He is a good run defender and has improved a lot in the pass rushing game in 2020 as well. Afreak athlete who has a great combination of size and speed, good hand placement and technique, has great pass rushing moves.  He has a slower get off and is a very raw prospect who can really only fit into a  four to three  scheme, not very versatile, has a lack of production, does not have good play recognition, and is not a great tackler. Injuries are a concern with him. He has all of the tools to be a great defensive end but the injury issue and he's not that quick to get off the line concerns me alot. Some pro comparisons are Randy Gregory, Trey Flowers, Robert Quinn, and Za'darius Smith. Some Team Fits are the Panthers, Lions, Vikings, and the Chargers.  
Next person on my list is Kyle Pitts, Junior, who is 6'6 246lbs from Florida. He has great possession ability, has smooth routes, great body control, and does not have a drop issue as a vertical threat, he has good production vs cornerbacks as well as against linebackers. But,he has a lack of run blocking tape, has some injury concerns, he does not have blazing speed and might not beat outside NFL cornerbacks. He needs to gain some weight and play more like a tight end and not a receiver. He is probably the best tight end prospect we have seen in a while, has a great wingspan and height to make the tough plays and has great hands but lack of run blocking skill and experience hurts his draft stock. Some pro comparisons are Darren Waller, Jimmy Graham, and Mike Gesicki. Team fits include Ravens, Patriots, and the Chargers.  
Next on my list is Jaylen Waddle,Junior, who is 5'10 182lbs  from Alabama.He has blazing speed, is the fastest guy in the draft, has great yards after catch ability,is also a great special teams guy and has great route running, is fearless in attacking the body, has great body control, has big play ability, and has good acceleration. He doesn't break tackles and uses more leverage than speed. Hislack of WR1 sample size and his struggle against the press. Too many screens in 2019 puts body at risk a lot, he's undersized, lacks outside experience and is not a great contested catch guy. Though he is a good prospect, there are alot of concerns, like how the ankle injury he got this season will affect his speed and his running ability in general. That also brings up injury concerns,he undersized, but he has a great skill set that can easily translate into the NFL. Some ro comparison are Marquise Brown, Tyler Lockett, Cordell Patterson, and Santana Moss. Some team fits include Dolphins, Patriots, and the Lions.
The second quarterback is Justin Fields,junior, who is number eight on my list, he is 6'3 227lbs from Ohio State. He has great arm ability, he is also very mobile and he  is a warrior plays through injuries like he did against Clemson this year. A very high character guy, not one to worry about if he's a good kid or not a great leader and has a great work ethic. Has good downfield touch and good accuracy. But he has issues with holding the ball too long and not being able to get off his first read. He also has inconsistent pocket presents and has shaky decision making.Some are  not a huge fan of fields people love his intangibles he has but I'm worried he's a product of the Ohio State system but he is a great quarterback and I'm excited to see where he goes. Pro Comparisons: Deshaun Watson, Donovan Mcnabb, Dak Prescott. Some teams he would fits would be Jets Texans (if they trade Deshaun Watson)Forty Niners, and the Falcons 
The last defensive on my list is  Micah Parsons,  Junior who is 6'3 245 who played at Penn State. He is very explosive, a very versatile player disruptive at the line of scrimmage. Unheard of size and speed combination, his instincts are great. His run, defensive, block shedding and tackling are all good. But in the NFL it could be a mismatch when he is against slot wide receivers, sometimes he's over aggressive at the line of scrimmage, he has a lack of man coverage, snaps are slightly concerning, and coverage is his biggest weakness. I like him as a prospect. I think what ranks him so low is the possible charter issues that could occur but he's a great prospect. Some Pro Comparisons are Luke Kuechly, KJ Wright  some Team Fitsare  anyone picking in the top 10 fits with any team. 
The next guy on my list is DeVonta Smith,senior, who 6'1 175lbs who played at Alabama The Heisman winner is very lanky with long arms, good route running and has great separation. Has a great release from the line of scrimmage, has good footwork and great production, he's very good at attacking the ball in the air and is a very efficient player. Has great body control and hands. The worries are that the frame is too small and he's not a very physical receiver. He's also not very elusive and has major injury concerns. He's a very interesting prospect but he's super explosive has all the tools to be a great wide receiver in the nfl but there's too many question marks with his size to make me rank him any higher. Pro Comparisons: Tyler lockett, Stephon Diggs, Gary Clark,andAntonio Brown Team fits: Eagles, Lions, and the Dolphins.
The next quarterback on my list is Zach Wilson, Junior who is  6'3 210lbs from BYU. He has great throw on the run ability and he's got some confidence in his game. He has a great pocket presence, and his eyes are always downfield. He's great at improvising and has great athletic ability and good downfield accuracy. Has great arm talent and good scrambling ability. Issues with him is he sometimes plays like he needs to be the hero, as well he has had shoulder and hand injuries which could be a concern in the NFL, also not great competition he has faced. He has a big learning curve at the NFL and breaks down the pocket way too much. He also is a one year wonder and holds the ball too much. I like him as a prospect. Things worry me about durability and the learning curve he has but his tape is filled with special throws and that's why he is ranked this high. Pro comparisons:Tony Romo, Johnny Manzel, Teddy Bridgewater, and Aaron Rodgers. Team fits: Jets,Falcons, and the Forty-Niners.   
The first offensive lineman on this list is Rashawn Slater,  Senior who is  6'3 and 315lbs.  He played for Northwestern. His technical sound has good hand placement, and has great footwork. His hips are great when rushed, he can play anywhere on the line. He's the most polished offensive linemen in the draft. His size is a concern at the tackle position. Gets a little overpowered when facing powerrushers. He is the most pro ready offensive lineman in this draft but I feel like he is more of a  guard than a tackle and that is why he is ranked four. Pro comparisons: Quieten Nelson,Kelvin Beachum, Jonah Willams,Elgton Jenkins. Team fits: Dolphins, Bengals.  
The last receiver on my list is Ja'Marr Chase,  Junior who  is 6'0 208 and played at LSU. He's very dominant at the catch point, has great body control. Has good vertical routes and is very aggressive in the air. Has great production against very high level cornerbacks. Some of his weaknesses are  the size and the lack of elite NFLskill. We don't know how he will handle the physicality of the NFL. I love Ja'Marr Chase watching the tape he is so dominant against anyone he played against if there was a catch to be made he made it. I love him as a prospect and I put him at three because of that. Pro Comparisons: JuJu Smith Shuster, Anquan Bloden. Team fits: Dolphins, Eagles, Lions.
The next offensive lineman is Penei Sewell,  Junior who is 6'6 325  from Oregon. He has great quickness and is only 20.He has great movement in space, he has a lack of bad plays and his body awareness is unmatched. Add onto those things he is a freak athlete no way a guy 6'6 should be moving like he does. But he does need to get better against power rushers, vertical speed needs to get a little better. Not a great offensive system that he is in. He is the best tackle prospect we have seen in years and he's a hall of famer written all over him. He is by far the best quarterback in this draft. Pro comparisons: Trent Willams, Teron Armstead. Some team fits would be, the Bengals, and the Dolphins. 
The number one prospect is quarterback Trevor Lawrence, junior, who stands at 6'6,  220lbs and played at Clemson. He Is a winner who has only lost 2 games since his sophomore year of highschool. He has a cannon for an arm, and is very accurate. He is mobile and knows when the pocket breaks down. He has pocket  presence, a great deep and intermediate throw accuracy,great vision and has the upperhand in strength because of his height. The only weakness is his team was so much better than everyone else and that he is big and could get beat up. He's the best quarterback prospect we have seen since Andrew Luck or John Elway.  
Overall this draft class has a wide variety of good prospects with the chance to be legendary
About the Writer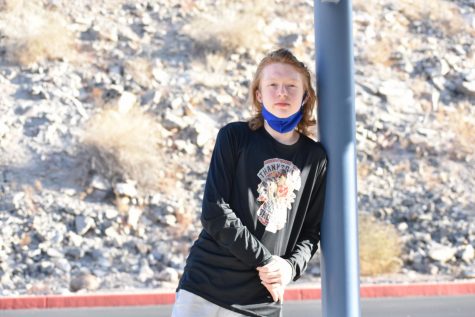 Conner Stegen, Staff Writer
Hey I'm Conner Stegen I'm a junior here at O'Connor this is my first year on The Talon and I'm a staff writer. I took this class to get better at writing...