Football holds head high toward end of season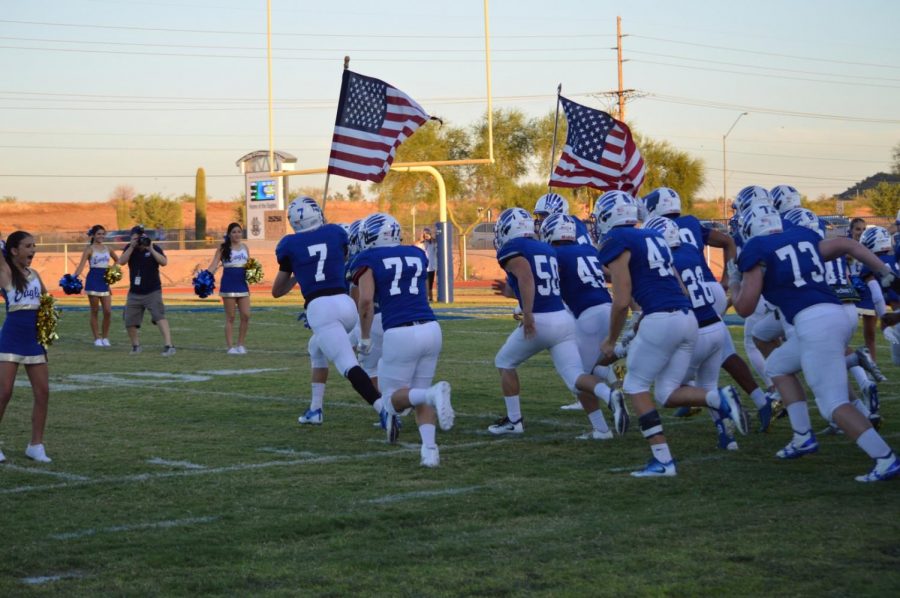 Varsity

The school year hasn't truly started until students begin filling the stands, accompanied by both Cheer and Pom to welcome the varsity football team to the field.

Even with a tough start to the season, the boys are more confident than ever that they are doing everything they can to make every game their best.

"It might not seem from the outside that we are working hard, but we really are," said Ryan Langford, senior.

The Eagles started their season with a tough loss against Mountain Pointe, scoring 6-46. This didn't break their spirit, as the team took home their first win against Tolleson the following week, 31-28.

"It's been a little rough, I won't lie to you. I think a majority of that is because our first three games were the top three teams in the states in order, with Mountain Pointe, Perry, and Chandler," said Travis Prince, junior.

The team's current record is 2-5. Their second win was against Millennium, where they scored 16-15.

With the end of the season nearing, players have learned to deal with many situations on and off the field.

"The biggest thing I have learned is just hearing on the field because hearing down there with the band playing and the crowds is really difficult, and that was probably the hardest learning curve," Prince said.

With this being their last year, the seniors have some final goals they would like to achieve.

"I want to help the team as much as I can, do what's asked of me, and try and get more offers. Something I really want to do is play college football," Ryan Langford said.

The team's final home game will be against rivals Mountain Ridge on Oct. 27.

JV

The JV team started their season with a win against Cesar Chavez, scoring 24-6. The team's current record is 2-4.

"I think the season's been going pretty good. I know our record doesn't reflect that, but we have improved definitely from last year," said Nick Camacho, junior.

The team has been hard at work putting in numerous hours every week to prepare themselves for their games and accomplishing their goals.

"Personally I need to improve on making reads on the field and working harder in practice. As a team we need to get better because we are not really where we need to be right now," said Ethan Myers, junior.

The boys' final home game was on Oct. 19 against Desert Mountain.

Freshmen
Following in the footsteps of their older teammates, the freshmen team have been hard at work putting in numerous hours during their morning practices.
"Sometimes the earliness can get to you, but it's nice because you don't have to worry about getting your practice done and then homework after school, " said Tyler Clark, freshman. 
The boys current record is 3-2-1 as they approach their last few games.
The team's first win was against Mountain Pointe, scoring 7-6. Followed by two more wins against Perry and Millennium.
Their final home game will be against Mountain Ridge on Oct. 25.
*Due to The Talon going to the printer, scores for the Mountain Ridge and Desert Mountain games can be found on aia365.com