Fellowship of Christian Athletes holds another successful fundraiser
Every summer, the Fellowship of Christian Athletes club hosts a summer camp in Flagstaff. This sports camp is for athletes who desire to improve their athletic skills. It offers coaching on nearly every sport, making it friendly to all different types of athletes. The atmosphere is inviting and neighborly, which is the epitome of FCA's message.
The camp provides an extraordinary experience, but the cost can be quite a hurdle to overcome for many students interested in attending. To help combat this, FCA hosts an annual Run Your Race fundraiser. The second annual RYR fundraiser was Saturday Jan 11. The run takes place on OHS soil, and is open to the OHS community, including neighboring high schools. There are obviously many different approaches to fundraising, but FCA's decision to choose a run as a fundraiser was carefully thought out.
"The race coincides with a bible verse, Hebrews 12:1. Matt Palmer, who is head of FCA in our area, his son is a Division One runner in college, Braeden Palmer. So, they are kind of a running family. Braeden's success as a runner is partially the reason why they chose to do the run," said Eric Bolus, history teacher.
With three race options, the fundraiser is friendly to all levels of athleticism. Participants were given the opportunity of running or walking one mile or a 5k. Those who wanted to take part, but could not be present, were able to sign up for a virtual 5k, in which participants donate money and run when they get the chance.
"The 5k was $50, the one mile was $25, and the virtual 5k was $50. A lot of donations were made, not just from people running, but also from people who just wanted to support the program," said Mike Iauch, long term sub for ROTC and OHS cross country coach.
The one mile course began on the track, looped around the bus lane, and ended on the track. Although both race courses were enjoyable, the 5k course was much more intricate. The 5k course began on the track. Participants would then run various laps around the practice field, the bus lane, and Hackamore. The glorious, sprint finish finale took finished back on the track.
"It was the perfect way to make use of the whole campus. It was definitely a road course, kind of a cross country course. Everybody seemed to like the course," Bolus said.
Jeff Baumgartner, health teacher, was not able to attend the race this year due to a scheduling conflict. But, his presence is anticipated next year.
"It sounds like it's an annual thing, and they are going to do it every year, so that'll be pretty neat. Next year I'd like to be there; I'd like to run it. I like to run if people are chasing me or if there is a basketball involved. I rarely like to run just for fun. But, I'll make an exception for this race," Baumgartner said.
The turnout this year was nearly double than last year's. With more participants from various other schools and large support from the community around OHS, the number of people skyrocketed. With the majority of participants being families, it is clear that FCA means a lot to both the students and families of OHS' community.
"Just seeing the little kids having fun, that was the best thing. There were a lot of little kids there with their parents and a lot of excitement. That was fun to watch," Iauch said.
Nonetheless, there was an outpouring number of OHS students who helped volunteer at the race, and also students who participated in the races. One of those students is Alex Hembree, junior.
"I chose to do the 5k because it is harder, but more fun to do because the mile is over too quickly. I had a really great time. It was cool getting to see people I knew there," Hembree said.
Hembree and his brother, Andrew Hembree, junior, ran the 5k race together. Both students run cross country at OHS and have plenty of experience with running.
"The course was fast. There weren't too many people in the actual race, compared to cross country 5k races. We didn't have to worry about rubbing elbows or getting stuck in a pack. It was all around campus, so it was a nice course," Andrew Hembree said.
The basis behind this fundraiser was to support an ever-growing club. Along with the summer camp, FCA hosts weekly meetings on Tuesdays before school. FCA is a program dedicated to providing a safe and supportive environment on the foundation of faith.
"FCA is just a branch of ministry that gives kids an avenue to be able to express their faith. To get a positive message in a time where being positive is important for young people, and do it as athletes. The great thing about FCA being involved in OHS is you do not have to hide it here. And so, I think FCA is a blessing to the young people to be able to express their faith," Bolus said.
Within two years, the fundraiser has gathered a lot of attention and support. FCA leadership is optimistic that the trend of immense growth will continue next year.
"Everything points to this continuing to grow. We had more runners this year than we did last year. We promoted it better. I don't see why it won't continue to grow. It was absolutely successful this year," Bolus said.
About the Contributor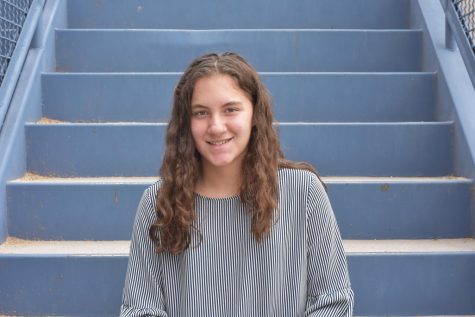 Macy Sanchez, News Editor/ Features Editor
My name is Macy Sanchez. I am a junior, and this is my second year on the Talon. I am the News Editor, as well as the Features Editor this year. I love...