Students stress about dual enrollment
One of the many unique features of OHS is the amount of classes it offers to its students. From the countless electives available, to the wide selection of honors, AP, and dual classes, students can have the chance to make the most of their high school experience. However, many students have been having issues getting into some of their classes. So far this year, students have been struggling to sign up for dual-enrollment classes from the Rio Salado college, causing a lot of confusion and frustration from the staff and students alike.
Rio Salado is a community college based in Scottsdale that for the past few years has been offering students the chance to get real college credit while they are still in high school. Hundreds of students have taken this opportunity and the program continues to grow every year. However, with the mass amounts of students that are signing up for these classes, many registrations have been taking an excessive amount of time to be accepted. It has taken so long that now classes are in session, and some students still aren't registered to their dual classes.
"I have two holds on my account that won't go away," said Emily Monaghan, junior,  "At this point, I can't actually register for the classes through Rio Salado."
The issue is stemming from the fact that there is a lot of paperwork that has to be filed in order for students to be registered and accepted into these classes. That is taking longer than anyone expected.
"Most people aren't able to sign up because Rio Salado is backed up so they're taking days to process forms that people are turning in," said Corbin Connolly, junior,  "I had to fill out a form requesting to take a 6th dual class and it took them 8 days to process it."
Since it is taking so long for the forms to be processed, it is recommended to sign up for the dual classes as soon as possible. The paperwork will be processed, but do not expect it to happen immediately.
"I believe most students aren't realizing that Rio Salado takes a while," said Susan Henry, a dual English teacher, "Once they put in their paperwork, Rio Salado checks them all out, and that takes a bit. One of the steps that many students were not aware of is that Mr. Brazell has to get their test scores, like AZ Merit or the PSAT, and he has to send them to Rio Salado, and they have to check off that, yes, this student will do okay in this class. So that takes some time."
Though the process is frustrating for the students, Henry still believes that the trouble is worthwhile.
"It is worth the frustration and the trouble to get into a dual class so that you have the confidence when you go off to college that you are almost already a college student," Henry said. "It builds up confidence like nothing else when you're in high school and you're taking college classes. All that fear [about taking college classes]  just goes away."
Many students are struggling because they have holds or flags on their account. This is an issue on Rio Salado's end, because they have not yet checked the student for prerequisites for the class, such as if they have high enough scores from the PSAT, AZMerit, or any other standardized test. There isn't much the students can do other than wait.
"Rio needs to figure out a better way to get those scores before students start registering," said Mr. Brazell, assistant principal of OHS. "In the past, [Rio Salado has] sent spreadsheets to the school of kids who have tried to register and have holds, and then I would go through some spreadsheets and look at the scores and enter those scores for them. As of today, I do not have that spreadsheet."
On Aug 31, representatives from Rio Salado came to OHS to directly help students sign up for their classes and give one on one attention to the confused students.
Another source of confusion was that Rio Salado had communicated that students had to have paid by a date in Aug, but that does not mean that students are not allowed to register after that point. It just means that payments are then due very soon after.
"Every Monday, the system would go through and drop students for not paying," said Brazell. "I think that people misunderstood, thinking that they had to be registered by that time. They got all the flags, so they're trying, but they can't, so that caused a lot of confusion."
The issues will be resolved before the deadline date, Sept. 16th, and the staff is working hard to make sure everyone is signed up for their appropriate classes.
"Just be patient," said Brazell. "We'll get you guys registered."
About the Writer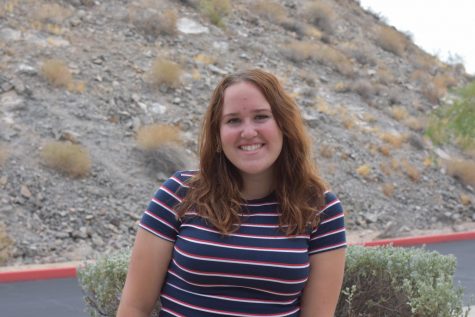 Lexi Gass, Design Chief
Hi! My name is Lexi and I am this year's social media manager and design chief. This is my fourth and final year on the Talon staff, so I am looking...