Corrections to Print: Volume 15. Issue 2. December 2016
Corrections relating to Volume 15. Issue 2. December 2016
Cover Page:
In the teaser for "OC Fall Sports Standouts", standouts is misspelled as standuts.
In the teaser for the "Once Upon a Mattress Review" the name Travis Roberstson is misspelled and should be spelled Travis Robertson.
News (Pages 2):
The cutline for the picture of Donald Trump incorrectly states he is the Presidnet-Elect which should be spelled President-Elect.
Features (Pages 6):
In the story "Halftime heroes shine: Band" the band theme for this season was titled "Sing" not "Sing, Sing, Sing".
Arts & Entertainment (Pages 16):
In the jump "Continued from page 6, Halftime heroes shine: Band" Kristopher Flanagan's name is misspelled as Kris Flannegan.
The Talon can be reached with comments, suggestions, or errors warranting a correction at [email protected] Letters to the editor concerning the editorial, columns or other campus matters are also welcome at [email protected] or can be dropped off at room 508. The Talon welcomes all reader messages and will be timely in responding.
About the Writer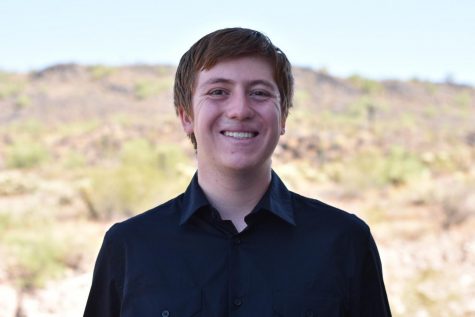 Ethan Gilchrist, Editor-in-Chief
Ethan Gilchrist is the Editor-in-Chief of The Talon for the 2017-18 school year. This is the culmination of a four year journey for Ethan as he reaches...