OC GOT REAL, spirit week recap
The spring spirit week has become an indecisive spirit week amongst students but ultimately proved to be a creative twist on spirit week.
The OC GETS REAL spirit week took place from the 28th to the 1st. The theme was reality tv that contained five spirit days including: What Not to Wear Day (Pajama Day), True Life: I'm Going to College (College Day), Jersey Shore Day, Bachelor Day (Formal Attire Day), and Class Color Day. All the spirit days are meant to emphasize the reality tv theme.
Shelby Kahldon, senior, loved the effort students put into college day.
"I have a friend, on college day, and she goes head to toe in everything that she wears for college," Kahldon said. "I think it's great. Most people just wore a t-shirt, hers was like her hat, her shirt, her pants, her shoes; she just went for it. It's cool to see people who are proud of the college that they support."
The spirit week's assembly was a satisfactory conclusion, but smaller in scale than previous spirit weeks which wasn't necessarily a bad thing from Stugo's view.
"I liked the assembly because it was simple and sweet this year. We had new games with the sports and the sports videos went well," said Vivian Harvey, Stugo sophomore vice president. "Normally we have technical difficulties with those but it was good this time and I liked it. Class colors were easy to so that made everyone's life a little bit easier."
Students have considered whether this spirit week holds up in comparison to older spirit weeks. Harvey's favorite spirit week is coincidentally last year's OC Inferno spring spirit week.
"The days were cleverly named and the attire was simple. The letters that go out in the lawn were awesome and then we had different wooden cutouts for each day so that people could take pictures with them," Harvey said. "We had our pamphlets so I think more people knew about that one because so many people got involved with that one and I loved it. It was just so good."
Harvey liked the originality of this spirit week however there were bad elements in her eyes.
"(There was) confusion with the first day, which was what not to wear. People love the pajamas but they were questioning the title. Some people struggled with the Jersey Shore day and didn't know what to do. Other than that I think it was easy enough for everybody to dress up," said Harvey.
Another struggle for spirit week was the timing with this spirit week coming after spring break.
"Stugo did their best with that because the very last couple days of break we were trying to blast social media so people would see it coming into the new week," Harvey said. "The Friday before Spring Break we were letting classes know and then we had passed out our pamphlets. I think, like I said, we did as well as we could have, it was odd but we made it happen."
Students across campus noticed a lack of school spirit during this spirit week but that didn't ruin the spirit week as a whole.
"I enjoyed it. I think more upperclassmen take part in it than underclassmen," Kahldon said. "I saw a lot of upperclassmen really going for it and a lot of underclassmen just ignored it."
Harvey said Stugo doesn't ignore the apparent lack of school spirit.
"Stugo has many ways to communicate to the campus and we do all of those. We make posters and we hang them up, we blast social media multiple times, we just spread by word of mouth like in my classes I'll make announcements about it; that is all as Stugo members we can do," Harvey said. "It's up to the students to choose to be involved and all we can do is hope that they get excited more but we're doing everything on our end."
Kahldon hasn't let the issues with this spirit week bring it down for her. As her final spirit week she just did her best to enjoy it.
"I thought it was different, creative, and a good spirit week to end my last spirit week as a senior," Kahldon said.

About the Contributor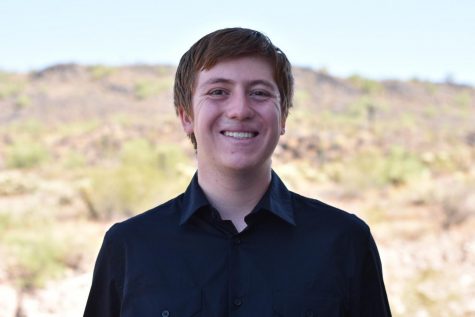 Ethan Gilchrist, Editor-in-Chief
Ethan Gilchrist is the Editor-in-Chief of The Talon for the 2017-18 school year. This is the culmination of a four year journey for Ethan as he reaches...