White stars dominate the stage at 2015-2016 Oscars
The Oscar nominees were announced January 14 and for the second year in a row, they seem to lack any nominations for people of color. Out of all 43 nominees, only two are of a race other than white.
The 2014-2015 controversy over the all-white acting nominees, was mostly due to outrage over Selma's, David Oyelowo and his outstanding performance playing Dr. Martin Luther King Jr.
The civil-rights film, Selma also did not hold a spot in the best picture nominations, sparking the #OscarsSoWhite hashtag and causing the Academy to pledge to change. The trending hashtag, #OscarsSoWhite also resurfaced this year as the Oscar's once again, forget to mention this year's best colored actors and actresses.
Many thought the blockbuster movie, "Straight Outta Compton" was guaranteed a nominee for best picture but was beaten by hit movies like "The Martian" and "The Revenant". "Straight Outta Compton" however, was nominated for best original screenplay, however all of their screenplay writers were white.
"Straight outta Compton was a big movie that made a lot of money. And the only people who were nominated were the only white people in the whole entire production. I think that's ridiculous," said Kia Fernandez, senior.
Change is slow coming with the popular awards show, however the academy chose comedian Chris Rock to host this year's show and have new producer Reginald Hudlin, both of whom are African-American, showing some promise of change in the future.
Along with the #OscarsSoWhite hashtag, two prominent African-Americans in Hollywood are planning to not attend the event. Spike Lee and Jada Pinkett Smith announced, on Martin Luther King Jr. Day that they would not be attending to the Oscar's, through social media.
"We cannot support it and [I] mean no disrespect … But, how is it possible for the second consecutive year all 20 contenders under the acting category are white? And let's not even get into the other branches," Lee wrote on Instagram.
In a recent interview with ABC, Lee stated that he is not attending the awards show but is not calling for a complete boycott of the Oscars.
Smith also used her social media as a place to share her concern. "At the Oscars…people of color are always welcomed to give out awards…even entertain, But we are rarely recognized for our artistic accomplishments. Should people of color refrain from participating altogether?" Smith writes on her Twitter. "People can only treat us in the way in which we allow. With much respect in the midst of deep disappointment."
Lee and Smith are only two of many Hollywood stars calling out the February 28th award show as George Clooney, Whoopi Goldberg, and Lupita Nyong'o have also expressed their concern about the issue.
About the Writer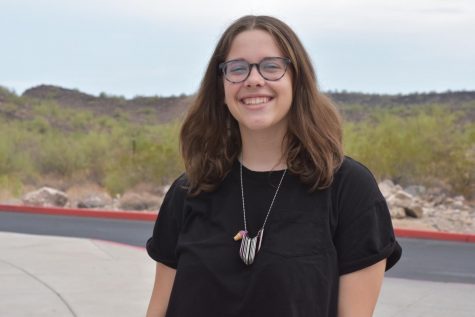 Cassidy Moore, Co Editor-In-Chief
Cassidy Moore is Co Editor-In-Chief with her long term friend Nikki Hazelett. She is excited to begin her fourth year on the Talon and can't wait to see...