New Board members hope to improve the Deer Valley District
On Jan. 13, Ann O'Brien and Kimberly Fisher officially become the newest members of the DVUSD Governing Board.
According to Michael Gregoire, president of the Governing Board, there was a General Election on Nov. 4 of last year. Out of the six candidates, O'Brien and Fisher were chosen as the top two by receiving the most votes from the public.
Fisher has three children and has been active in their education. Last year she was able to help several parents and families address issues they were having.
"Realizing that my experience and education could have a positive impact on our district, these parents asked if I would consider running for the Governing Board. I agreed and the rest is history," Fisher said.
She said that she was shocked when the election results come out and that this has been one of the hardest things she has ever done.
"Sometimes people are not nice and it makes you fairly sad. Toward the end of the election, on a very difficult day, I was driving down the road and praying," Fisher said. "I told God that if this was not what I was meant to do then it was okay."
Despite the negativity, Fisher was elected and claims that she wants a top quality education for all children and now has been blessed with the opportunity to help the district provide one.
As a Governing Board member, parent, grandparent, or employee, Fisher said that she will always be involved in school administration. She feels education is one of the most important treasures you can give to the next generation.
O'Brien was excited to be elected by the Deer Valley Community to represent them as a Governing Board.
She has been volunteering in the District for ten years and wanted to move to the next level by running for the Governing Board.
"Public school education is a vital part of our economy and community. It is imperative that all students are provided extraordinary learning opportunities," O'Brien said.
Now that both O'Brien and Fisher are on the Governing Board, they are working towards new improvements for the Deer Valley District.
O'Brien said that she hopes to implement a balanced budget that will require Deer Valley to reduce their spending by four to eight million dollars.
Fisher said that the students are always her number one priority. She wants to ensure that students will always have a voice.
"If our students feel they have a say in what is important to them then we are able to adjust to make learning even the difficult subjects more fun," Fisher said.
Advice that O'Brien recommends to students is to be the best that they can be and to be involved with their school and community.
She said, "Don't be afraid to ask for help or to make mistakes. Wayne Gretzky, hockey player, said it best, 'You will always miss 100 percent of the shots you don't take.'"
About the Writer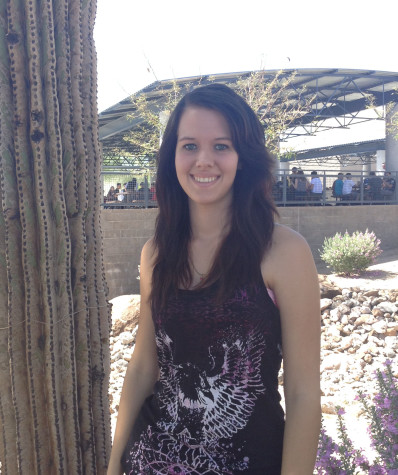 Sarah Melson, Design Cheif
Sarah is a senior at OHS. This is her fourth year in the OC Journalism Department. She hopes to become a better writer this year. She wants to someday...