The Academy takes on Philadelphia
After two years of cancellations, delays, and restrictions, school trips are finally back, and they are creating lifelong memories and sincere friendships. Over the summer, The Academy of Civic Engagement and Advanced Studies embarked on an adventure, exploring the landmarks, museums, and cheesesteak restaurants of Philadelphia, Pennsylvania. 
After a period of time where travel opportunities were limited, students and staff were keen to take the chance to visit a different part of the country.
"I think it was great to bring [the trips] back and have a sense of normalcy to what we do as the academy," said Tiffany Ellis, history teacher. "We had an abnormally large group this year because, I think of COVID and nobody could travel, so everyone was eager to travel."
While on the trip, students were able to meet new people that they normally would not have.
"It's a good bonding trip for the kids that are in the academy, and for them to mingle with the other grade levels, and for them to get to know each other outside of a school setting," Ellis said.
It took time for the group to warm up to each other, but once they did, conversation flowed and friendships were strengthened.
"At the beginning of the trip, we were all quiet, but by the end of the trip we were all talking," said Mason Stackhouse, senior. "I definitely look forward to hanging out with the academy [again]."
Some students began the trip with doubts and worries that they would not have anyone to talk to, but as the trip went on, those worries quickly disappeared and made room for joyous memories.
"One of my best friends was supposed to go on this trip with me, but he bailed," said Zoey Pietramale, senior. "I felt lonely and I wasn't looking forward to the trip, [but] I realized once I got to the trip that a lot of the people who were going, I had been in classes with and just never talked to, and during this trip I learned so much about people who I wouldn't have had huge conversations with. The social aspect of the trip was what I was most surprised with, it was probably even my favorite part."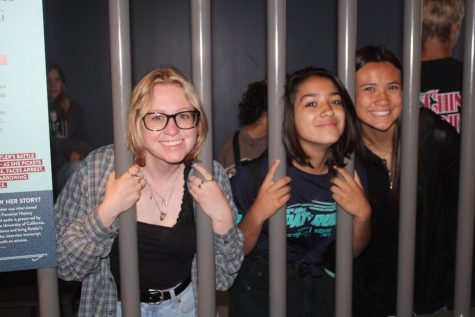 Outside of socializing, students were able to see many of the famous monuments and museums of Philadelphia, including the Liberty Bell, Betsy Ross' house, Independence Hall, the American Revolutionary War Museum, Princeton University, and Valley Forge.
"In some cases, some of the kids were surprised by how small the historical center of Philadelphia was," Ellis said. "I think people thought that Philadelphia was much bigger in terms of its colonial and revolutionary history—size wise."
The museums that were visited offered more in depth knowledge that students would not have ordinarily been exposed to.
"The African American Museum, there's a lot of history there that isn't shown in media or our textbooks," said Ceejay Stevenson, senior.
Although The Academy's teachers have been to Philadelphia before, they were still able to see new exhibits, as well as their old favorites.
"I love George Washington's tent, seeing that at the American Revolutionary war museum was pretty cool," Ellis said. "I also enjoyed the medical oddities museum because I had never been there before."
While visiting Love Park, students had the chance to be featured on a local Philadelphia news channel's segment on how exercise can improve one's mental health. As students rested from exploring the sights of the city, CBS News Philly approached them and asked if they would participate in a fitness class that they were hosting and filming. 
"I was ecstatic because it was my first time on the news," said Kayden Popescu, sophomore.
Another highlight of the trip for many students was visiting the iconic steps from the film franchise, "Rocky."
"At the Rocky steps, I put in my headphones to [listen to] the Rocky theme and then saw all my friends jumping up and down, waving their arms. It definitely made me feel like I was part of a big group," Pietramale said.
While the expedition to Philadelphia may have just ended, The Academy already has next year's trip to look forward to.
"[Next] year we are planning on going to different civil war sights," Ellis said. "We're talking about Harper's Ferry, where John Brown's raid occurred before the Civil War. Then we're going to go to Antietam, Gettysburg, and Ford's Theater in Washington, D.C, where Lincoln was assassinated."
Overall, The Academy's 2022 Philadelphia trip was one where people involved in all different aspects of school life were brought together over a shared interest in history.
"All of us were collectively very, very different," said Ethan Heyer, senior. "None of us would have been together if it wasn't for this trip."