Creating and Learning with 3D Printers
Kaden Ryback, Features Editor/Opinions/Editorial Chief
March 13, 2020
The Computer Lab (room 419) has a new device that promises students the ability to produce spectacular creations. Using funds from the CTE program, the district was able to purchase a Makerbot Replicator Plus, a 3D printer that uses plastic to build models of virtual objects.
Mr. Boucher, who teaches computer science, knows the ins and outs of the machine and helps teach students how to use the printer. Boucher explains how the printer connects to the lab's computers where it is provided a blueprint on how to print whatever object it is ordered to.
"I'm able to get into it using these two desktops, and then I have to approve each print. We just use the Makerbot software. The students can download files, and then we can export them out and bring them over to the machine," Boucher said.
This is Boucher's first year at OHS. At previous schools, Boucher always dreamed about having access to a 3D printer. He envisioned it as a tool to teach students coding that would give them a tangible object so they could see the results of their work.
"Last year when I was teaching at another school, that was part of my vision to have the kids be able to print something that would have joints or be able to move, like a robotic arm, and have the kids be able to make the object move. They write the code, and program it to make the object move. It's more exciting," Boucher said.
So far, the student response to the printer has been positive. In Boucher's classes, students have used the printer to make vehicles and complex contraptions.
"For my class, we've had a remote control car. It's run with a student's phone. They printed off the whole body of it. A couple of girls put this tank together where they built the tracks, and had to put the tracks all together. There's a crane arm that will actually grasp something and pick it up," Boucher said. "A student did a gear box. t's about 80 pieces of different gears. It's like a standard gearbox for a car. Once that gets going it'll be really cool," Boucher said. 
About the Writer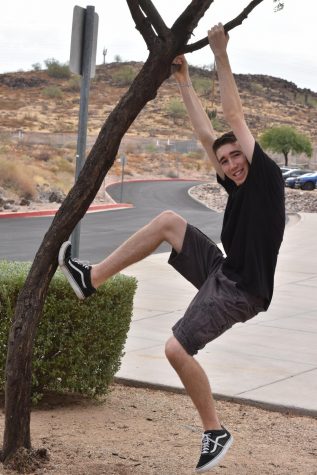 Kaden Ryback, Features editor/ Editorial chief
Kaden Ryback is a senior, and this is his first year on The Talon staff. Kaden hopes to make his time writing for The Talon enjoyable, and his sole objective...