Senior trip offers a California bound summer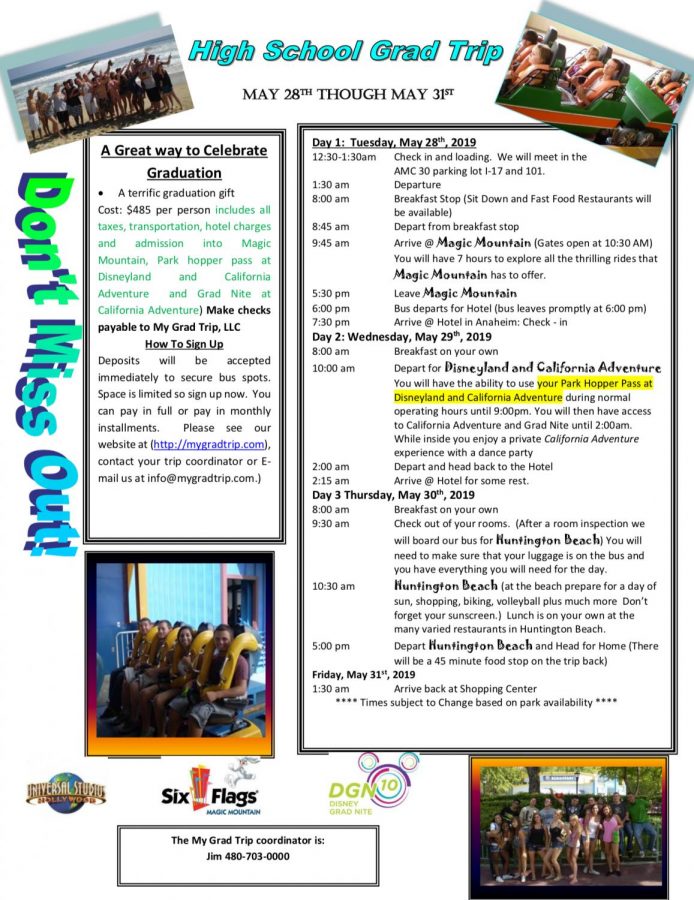 High school graduation is a bittersweet moment for seniors. It celebrates the accomplishments of the senior class, but it could also be a final farewell to their friends. However, this year, seniors have the opportunity to go on a senior trip to California, which allows seniors to make long lasting memories with their friends and properly commemorate the end of their high school chapter.
Seniors will get to go to multiple destinations in California, including Disneyland, Six Flags, and Huntington Beach. The trip starts on May 28 and ends on May 31.
The trip is not being organized by the school, but by a company called My Grad Trip. Because of this, the OHS seniors will be traveling with many other schools to California.
"I don't think it's through the school because we're not meeting up at school, we're meeting up at a different location to get on a bus. There's a bunch of different schools going," said Natalie Matyskiel, senior.
The cost for the trip was $485, but most of the seniors going on the trip felt it was worth the cost.
"I remember [the cost] actually being pretty cheap for going to all those three places. It's really affordable and it's also paying for the trip there, and for the hotels, and all the food," said Yumin Han, senior.
Additionally, the cost would have actually been more expensive if seniors were to go by themselves, making the trip a more viable option.
"[The trip] does let people have this one last trip and it's discounted so we don't have to pay or drive and I like that option a lot," Matyskiel said.
The trip allows seniors, like Taylor Maus, to bond and have a good time with friends.
"I think it'd be great just to hang out with my friends because we've wanted to go to Disneyland together and it's just easier to have a whole trip planned for us already," Maus said.
This experience also serves as a final celebration before seniors split up and pursue their own paths.
"It's like one last celebratory event because everybody is going somewhere different for college, some people are going out of state, some people are even going out of the country and you may never see them again. So I think it's just really important to make those memories with them while you can and this is a really great opportunity for that," Han said.
Matyskiel also feels that the trip allows seniors to spend time together without the pressure of high school.
"I know a lot of people split up after [high school], everyone goes their separate ways so this is one last chance to make a bunch of memories and just do stupid stuff together," Matyskiel said.
Maus sees the trip as a way to celebrate their years in high school before they go to college.
"I guess it is a last hurrah before we leave to college, before we see each other [again] and it's just a big trip for everyone and it's just a good time to have," Maus said.
The trip gives seniors a chance to spend time with their friends and have a sense of freedom as they spend a couple days in a different state.
"It's like your senior year, it's kind of important, you know like you're finally an adult, you can leave and do stuff and so now we can go somewhere without parents watching over your shoulder," Han said. "You can do all these things with your friends and spend the nights with them for a whole week in a whole different state and that's just kind of nice. It's like freedom."
Most importantly, however, the trip provides a sense of closure and finality. The memories made on the trip will surely not be forgotten and will help seniors move onto the next chapter of life.
"I just want to ride roller coasters and scream with them," Han said.
About the Contributor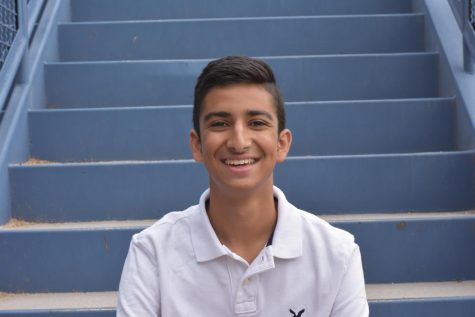 Rohan Patel, Editor in Chief
Hi, my name is Rohan Patel and I am a Co-Editor in Chief and Sports Editor for The Talon this year. I am a junior and this is my second year on newspaper....