Freshmen Tailgate: Mentors organize freshmen for pre-game activities and fun
The Freshmen Tailgate was Wednesday October 7th from 5-6 pm. It took place before the freshmen football game against our rival Mountain Ridge. The end score was 23-22 with O'Connor taking the lead.
This event is very important to introducing freshmen to high school and getting them comfortable.
"We like to interact with the freshmen and get them more involved," said Aodet Yako, senior mentor. "I know last year it wasn't as big as an event, we tried advertising more and getting them pumped up and more mentors came than last year too."
Katy Culley, the Freshmen Mentor advisor agrees that this is a fundamental event  to interacting the the freshmen outside of school.
"We hold the Freshmen Tailgate to provide an opportunity for freshmen and mentors to get together outside of the MTSSA setting, and at this event showcase some of the school spirit that is common among our upperclassmen,"  said Culley. "We want that school spirit to be passed down from one graduating class to another."
There was a great turnout this year because of increased advertising and in preparation for the varsity game against Mountain Ridge on October 9th.
"It was really good, last year there was about 10 freshmen attending and this year 50-60 students were there and at the game the student section was full," Yako said.
Integrating freshman into the school is the sole purpose of the freshmen mentors and they are planning many events throughout the course of the year to strengthen that bond between mentors and freshmen.
"We have quite a few events to look forward to in the coming months!  We'll host a movie night on the practice field where we'll bring out the big blowup screen and serve hot chocolate and popcorn," Culley said. "Freshmen are encouraged to bring a blanket and some friends to come hang out!  To stay up to date on events, freshmen are encouraged to text @froshrock to 81010!"
About the Contributor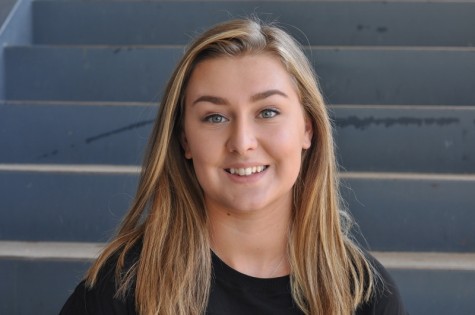 Hayley White, Staff Writer
I am a senior at OHS and this is my second year in the OC Journalism Department. I love to eat, be with friends, take photos, watch movies and listen to...