Review: "Love, Simon" perfectly encapsulates life as a closeted high schooler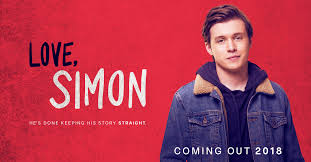 Millions of high schoolers in America identify as part of the LGBT+ community, and many of them live with that being a secret. Eventually they'll have to face the moment when they do share their secret with their family, friends, and the world. "Love, Simon" provides a perfect lens into these students' lives with a funny, heartfelt, and embraceful coming of age story that will help students who are yet to come out, as well as affect those who already have.
Simon, played by Nick Robinson, is a typical high school student with one giant secret: he's gay. Simon hasn't told his friends or his family, but only shares it with a pen-pal named Blue. "Love, Simon" portrays the conflict that arises when Simon starts this online relationship with the risks of this secret being leaked, and the mystery of finding out who "Blue" is.
It is almost immediately established that Simon is a closeted homosexual and the film wastes no time explaining this. What follows is a relatable story of love and coming to terms with your identity that LGBT teens, or any high schooler can take something out of. However, there is no understating the importance that this movie holds for students who have had to hide who they love or what they identify as.
The film does an amazing job of capturing the dimensions of Simon's character and what struggles he endures. This was a massive achievement captured well by Nick Robinson's portrayal of Simon, as his mannerisms, and subtle reactions to boys he likes were convincing, funny, yet all the more heartbreaking, and Robinson deserves the highest of praises for being able to personify the feelings and struggles of a gay student.
The writing and direction also characterized the mindset of Simon remarkably, which is brought to life by his internal monologues and hallucinations. These moments in the film where Simon hallucinates who Blue actually is and does internal detective work were amazing to watch, as this is another example of laying out the mindset of closeted students and many LGBT viewers will find these tribulations accurate to their past.
The side characters also shined in both moments of support for Simon as well as scenes where conflict arises over the loops Simon goes through to hide his sexuality. Simon shares emotional scenes of facing the truth of his identity with his parents, played by Josh Duhamel and Jennifer Garner, and plenty of comedic scenes between his group of friends played by Alexandra Shipp, Katherine Langford, and Jorge Lendeborg Jr. who make for a diverse, tight-knit, and loving group. "Love, Simon" has a respectable commitment to diversity and representation for other minorities as well, which was brought to life greatly by these lovable and supporting friends.
"Love, Simon" is a heartfelt, warm, and optimistic point of view of life as a gay student. There are low points in Simon's life that will leave you weeping, but the film as a whole is lighthearted and chooses to embrace the positive and inspiring path for LGBT students, which is exactly what we need. Sad award-contending films on LGBT life are amazing, however with acceptance growing more and more rapidly eventually we can move passed these stories that end in heartbreak, and take a moment to escape, laugh, and feel inspired for 100 minutes.
And you know what, these types of stories are exactly what we need. Fun coming of age stories about LGBT life are vastly important for representing those in Simon's position that may feel hopeless, that they won't be accepted, or they won't ever love, however seeing themselves represented on the big screen with a fun and optimistic story of coming out, could do wonders.
If just one student can happily and successfully come out as a result of viewing Simon's story, then the movie was more than worth it in the end. Yet much more than this has already happened.
While filming, Nick Robinson's brother came out, and during release two actors from the film came out. These actors were Joey Pollari, who played Lyle, and Keiynan Lonsdale, who played Bram. Twitter users have also tweeted that the film helped them come out to their parents and friends. The film's sweet and representative story has left its mark, and more and more students and young people are embracing their true identity.
For those who aren't LGBT "Love, Simon" is a hilarious and sweet coming of age story, but for the community it's all those as well as a piece of representation and inspiration. A film in which those living in the shadows can look up to, feel represented by, and embrace.