NYAs recognize talented youth in theatre
Awards season can mean different things to different people. Awards, first and foremost, are made for celebrating talented individuals and teams, congratulating them for the hard work and effort.
Youth theatre in Phoenix, Arizona has been filled to the brim with many talented artists, including some students of OHS. These talented individuals are celebrated in what is called the NYA Awards.
The National Youth Art awards, or the NYA's, is an organization run by Rob Hopper that visits and judges each eligible theatre performance around the valley in order to hand out awards for the best performances of the season. They're like the Oscars, but for local youth theatre.
Among the many talented actors and actresses across the valley, students Riley Clark, senior, Makenzie Fugatt, senior,  Makenna Cain, senior, Sarah Jedlowski, senior, Lauren Coe, senior, and Addison Bowman, junior, all received awards recognizing their talent and incredible performances.
These awards are special to kids in theatre because it gives them a chance to feel validation for the work they've done. Clark received the award for Outstanding Supporting Actor in a Play for his role of Martin Turner in the show Mr. Hobbs' Vacation.
"It was really nice to know that I had won," said Riley Clark, senior. "I put a lot of hard work and energy into the performance that I won for and I felt pretty good about it, so it was nice being recognized for it."
Being recognized for a performance is an amazing way to build an actor's confidence and motivate them to keep performing to the best of their abilities. Any actor would tell you that there is much time, effort, and work that is put into each and every performance.
Mackenzie Fugatt was recognized as Outstanding Supporting Actress in a Musical for her role of Queen Aggravain in Once Upon a Mattress.
"It made me feel really good," said Makenzie Fugatt, senior. "Honestly, I don't think I did as well, but they gave me an award, and it just gives you confidence and it's just good to see that some people care."
Sarah Jedlowski won the award for Best Leading Actress in a Play for her role in Mr. Hobbs' Vacation.
"Never in my wildest dreams did I imagine that I could win one," said Jedlowski. "I worked really hard on the show, I honestly believe I've never worked harder in my life, and I'm really proud of what I did."
Lauren Coe won the award for Outstanding Lead Actress in a Musical for her performance as Princess Winifred in the production of Once Upon a Mattress.
"It was really exciting to have won something," said Lauren Coe, senior.  "A lot of my older friends from last year won from their performances, and they were really good and it's really cool to win the same awards as they did and know you were as good as them."
Makenna Cain won Outstanding Supporting Actress in a Play for her role of Emily Turner in Mr. Hobbs' Vacation.
"I think what Rob Hopper does is so amazing, because I feel like Arizona isn't one of the places you would expect for theatre," said Makenna Cain, senior. "He's showing these kids that they are doing good and he's giving out these awards. It makes us feel incredible and it gives us something to look forward to."
So many productions get put on throughout the year by many different theatres in the valley, and having one big event to recognize all the effort put into so many performances is important.
Addison Bowman won the Artist of the Year award for her performances as Fantine in Les Miserable, Miss Sandra in All Shook Up, Rosalie in School of Rock, and Elle Woods in Legally Blonde.
"I just feel so blessed to be apart of a community full of such talented and hard working kids," said Addison Bowman, junior. "The kids in youth theatre are honestly just some of the most passionate, beautiful people I've met in my entire life. I'm just honored to be apart of a group and be recognized for the work that I do."
Another winner of Outstanding Lead Actress in a Play was Lauren Vialva for playing Madge in Picnic. Other students, current or former, who were nominated were Jacob Shaffer, Nick Leach, Emily Burns, Mandy Moisoff, Bhavana Somayaji, and Maddie Worley.
"I just think that things like that are so incredible because it motivates young people to keep doing what they're doing and never give up," Bowman said. "More than anything, the NYAs is just a celebration of everyone's hard work, and that's what I love most about it."
About the Writer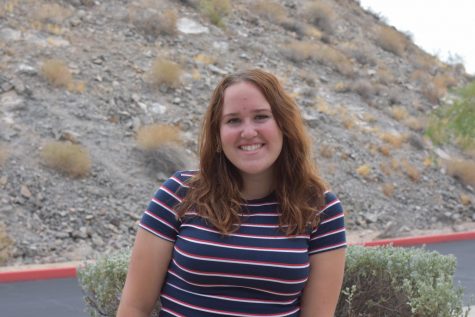 Lexi Gass, Design Chief
Hi! My name is Lexi and I am this year's social media manager and design chief. This is my fourth and final year on the Talon staff, so I am looking...