Elementary #32 coming soon, near you
As development and growth skyrockets within Deer Valley Unified boundaries, the district is building a new elementary school to combat enrollment increases. As a future OHS feeder school, Elementary #32, as it is currently being called, had its ground breaking ceremony on Sept. 17 with performances from the choir and band, and a drill performed by AFJROTC cadets.
Located on Inspiration Mountain Parkway, in the Stetson Valley community, the long awaited Elementary #32 is situated on approximately 14 acres. Being built by McCarthy Building Companies and SPS+ Architects LLC, the school is costing the district over 21 million dollars and at full build-out, will be equipped with over 77,000 square feet dispersed amongst 45 classrooms, an administration building, a multi-purpose building, a media center, and a dedicated Maker Space. The school, with a capacity of 965 students, will be built in a similar design to other DVUSD schools, such as Stetson Hills, Sierra Verde, and Sonoran Foothills.
"The sustainability and the wayfinding [of this design], really accounts for great outdoor learning and indoor learning," said Steve Poulin, Senior Vice President of McCarthy Building Companies. "[We have] taken some lessons learned from the previous campuses and applied them to this campus to continue to make it better and better for the students."
As the campus is designed to serve the future students in the best possible manner, parents and community members anticipate the school to continue DVUSD's reputation of success. However, many parents have been left frustrated as it has been over 12 years since the project was first proposed.
"I [am] excited but I was more excited 12 years ago when we lived right across from the school," said LeAnne Torzala, a parent and member of the community.
Due to the Great Recession in 2008, enrollment growth stopped completely and the district started to see enrollment declines; therefore, the district postponed the project.
"We've owned this site for a couple decades now and we originally started to design the school back in 2008 but then what happened with the recession, the need didn't exist to build the school," said Jim Migliorino, Deputy Superintendent of Fiscal and Business Services of Deer Valley Unified School District.
As the economy has bounced back and the Phoenix Metropolitan Area sees historic growth, DVUSD has seen enrollment increase, and projects it to continue increasing. Just north of the future school on 43rd Avenue and Loop 303, the Taiwan Semiconductor Manufacturing Company (TSMC) has started construction on a massive computer chip factory, bringing hundreds of construction workers, and eventually over 2,000 highly-skilled engineers and technical specialists.
"They're just in the construction phase of that particular project and we're already seeing the need for additional [capacity] to be able to handle the [enrollment increases caused by the] construction [workers] without even talking about the production staff that will be needed for them to produce the chips at that plant, so we're already seeing some growth," Migliorino said. "What ends up happening at that big of a development, we're talking about 30 billion dollars, there's going to be people needed to necessitate whatever the output of that is, and they have to live somewhere and this is a very beautiful area, a very desirable area that people are attracted to. So yes, the TSMC semiconductor plant is actually causing some of the growth that we are seeing in this area."
Despite all of the growth the district is experiencing, and requests of many parents, the school will still be built as a K-6, the first in the district since Legend Springs Elementary was built in 2000. 
"We've been waiting a long time and I know the kids are excited. I really want it to turn into a K-8, so we are anxious for that," said Kelly Kunzweiler, a community member.
Every elementary school in the district built after 2000 has been built as a K-8, and parents especially like how their middle schooler(s) could still be at the same school as their younger sibling(s). But now, the district is facing obstacles preventing them from continuing the trend.
"The number one reason was funding; the allotment for the building to be built was actually approved in 2013, and obviously construction costs have exponentially rose [since then], and so the dollars that we have there, for this project, is only enough to do a K-6 at this time," said Dr. Curtis Finch, Superintendent of Deer Valley Unified School District.
DVUSD is still planning on expanding the school to encompass seventh and eighth grade, but only when there is more student growth and funds. As it is built now, they will prepare the site for when the expansion is necessary.
"Across the canal here, there is TSMC and they're going to be growing and so we expect that this will eventually be a K-8, but we won't know probably for about five years," Dr. Finch said.
The student enrollment growth is not just impacting elementary school grades. In 2020, DVUSD adjusted its high school attendance boundaries due to growth and uneven enrollment distribution at its five high schools. OHS was one of the schools most affected by the boundary change, yet enrollment has only dropped from 2,702 students at the beginning of the 2019-2020 school year, to 2,562 students in the latest report at the Sept. 14 Governing Board meeting.
"We predict that a high school will be needed, I think it's probably outside of three years from now, but it really is going to be dependent on what the state land department does with all the land that's north of here. If it gets sold for residential developments that develop quicker than our projections, then that could accelerate that timeline," said Jim Migliorino.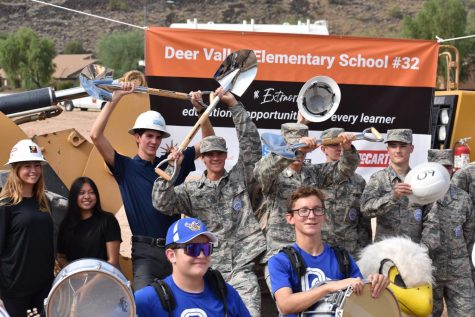 As the certainty of a new high school is still unknown, OHS and the DVUSD community are still highly anticipating and focused on the new Elementary #32. At the groundbreaking ceremony for the school, OHS students from different programs gave performances and student body president Nathan Edlebeck, senior, gave a speech.
"It became more apparent than ever during online school that teacher to student, face to face, in-person learning is so crucial to the growth, mental health, and education of our students, so when I informed that Deer Valley was to build a new school, and this school was to become an O'Connor feeder school, I was beyond thrilled," Edlebeck said in his speech. "Now there is going to be yet another place in which Deer Valley will continue to dominate public schools, and I am confident that Elementary School #32 will continue following through on DVUSD's goal of graduating lifelong learners who will successfully compete, lead, and positively impact the world."
With a similar attitude to Edlebeck, Deer Valley Unified School District Governing Board Vice President, Ann Ordway, feels similarly optimistic and confident in Elementary #32's future success.
"I always think it's exciting when we have the opportunity to serve the students that live within our district," Ordway said.