"Ryan's Race" continuing to make a difference in the community
The stress of school, family life, hobbies, and trying to transition into adulting, tends to send many students over the edge. The overwhelming expectations placed upon high school students lead a saddening number of students to depression.
An important part of preventing and overcoming depression is community. Students should be able to go to the people around them and get the help and support they need. Although we all want to help, the honest truth is that most people do not know how. It is absolutely necessary that we educate ourselves on this issue. Long standing members of OHS community, the Edward's family, have put together an event known as "Ryan's Race" to bring people together and educate them about conquering depression.
"Ryan's Race is a charity fundraiser. Our purpose is to raise funds for mental health awareness and suicide prevention. That's a pretty serious subject, but we think it is important to talk about it and make it okay. The event is a really positive environment," said Dana Edwards, Ryan's father.
The race is in remembrance of Ryan Edwards, a former student at OHS.
"This is in memory of my son Ryan, and to honor his life. He passed away five years ago, September. He was a senior here at OHS and he was in the band," Edwards said.
Feb 22, 2020 will mark the fifth annual Ryan's Race fundraiser. Along with the 5k, 10k, and one mile fun run, a yoga class and a pound fitness class will be offered. The latter two are new events, just added to the program this year.
"We thought, well how can we appeal to other people? Because it is not really about the race and running, it is about people coming together and supporting one another," Edwards said.
The yoga and pound fitness classes are $25. The one mile and 5k runs cost $35, and the 10k is $40. While the previous events all require payment, Ryan's Race also offers a large variety of free events.
"There will be a children's dance class, story time, crafts, and fun games. Everyone will also get a chance to take a picture with comicare superheroes. Little kids can also do the lollipop race. They will just run a short distance across the grass, and then receive a lollipop at the end," Edwards said.
A portion of the funds raised goes to Ryan's Giving Fund. That money goes to someone in need, and generally goes to support a specific want or need of theirs.
"One year, we had a young man who had anxiety and panic attacks. He wanted to help people, and he was trying to get money to go to India to work with abused women. But, he couldn't get the money and he wasn't going to be able to go, and he was stressing over it. So, we provided the money as a gift to get him over there," Edwards said.
That friendly donation has made all the difference in that student's life.
"He spent about a month and a half there. He came back and has since gone on and got his master's in psychology, got married, and he's doing well. He still has panic and anxiety, but you know, that was a helpful thing," Edwards said.
Every situation is different. The money does not always go to such a large idea or event, such as traveling abroad, but, whatever the case, it is always impactful for the student involved.
"We had another girl that had anxiety attacks, so we helped raise funds to provide her a service dog at school," Edwards said.
The remaining donations are split three ways. Whichever place the money goes, Edward knows that it will be used to exalt and further the community.
"We donate a chunk of it to the band, to help with the cost for the kids. It's a great organization, so we support that. The other one is the Andy Hull Sunshine Foundation. Andy Hull was another student at O'Connor that passed away from suicide a year before Ryan. His mom speaks at schools and provides free wristbands that say 'you matter,'" Edwards said.
The third donation goes to an organization started by Christen Pike, an alumni of OHS, called Mental Health Superheroes.
"She's been involved in trying to have a discussion with that. She's been on panels at Comic Con and stuff like that. They talk about things like the mental health in Harry Potter, or the mental stability of Star Wars characters. She talks about it in a way that kids are comfortable with," Edwards said. "She wants to develop an evidence based curriculum, so that she can better convey her message to the kids. Of the money that is donated, some of that goes to helping her develop that curriculum."
For five years, Ryan's Race has brought hope and a sense of value to the OHS community. Although on the surface, the event may seem like just a couple of people running, beneath the surface, it is so much more. The event is a perfect way to bring people together and advocate and educate each other on the crippling dangers of dealing with depression on your own.
"One of the things we found from Ryan was, we knew he had depression and we tried to help with counseling and treatments with medications and different things. Some worked, and some [weren't] great. But the thing is, he didn't really confide in us, and tell us," Edwards said. "But, he did reach out to a couple kids on campus and said, 'I'm having trouble. I'm feeling this way about suicide and hurting myself.' So, we know those conversations are happening peer to peer over at school, so how can we get the word out so the kids know what to do, and adults too?"
Although Ryan's Race was created because of a sorrowful and wretched event, comfort and hope can be found in the outcome and impact the race has on the community. Bringing hope, laughter, and guidance to the people around them, Ryan and his family have surely shaped the community for the better.
"This is just another way for the race and an event to promote wellness. Not only have we gotten a chance to impact the community, but we have been impacted by the stories we hear. That's why we keep doing it, because we know we can make a difference," Edwards said.
More information about the race can be found at MentalHealthSuperheroes.org.
About the Writer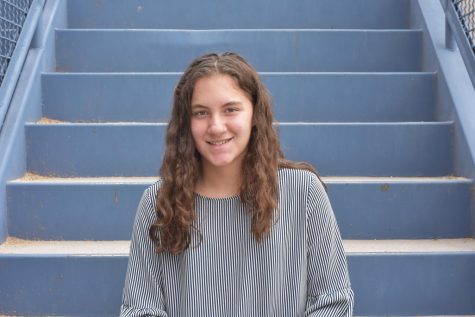 Macy Sanchez, News Editor/ Features Editor
My name is Macy Sanchez. I am a junior, and this is my second year on the Talon. I am the News Editor, as well as the Features Editor this year. I love...