Boys' basketball rebounds to the end of the season
February 6, 2017
Boys' Basketball is wrapping up their season currently with a record of 6-11, after their recent win against Cibola 61-26 on Friday Feb. 3.
The Eagles also won against Horizon 86-82 on Jan. 27, but lost against Desert Mountain 42-33.
They will, however, not be going to playoffs which the team has expressed disappointment over.
"We should've been in playoffs but we just came up short, if we would've won a couple days ago we probably would've been in it," said TJ Connaker, junior.
Jacob Conger, junior, also says they had high hopes of making playoffs.
"We were very disappointed, obviously going into the season we had high hopes, but didn't achieve our goal," Jacob Conger said.
While they didn't make playoffs, Nick Conger, junior, says this season was an overall improvement over last year's season.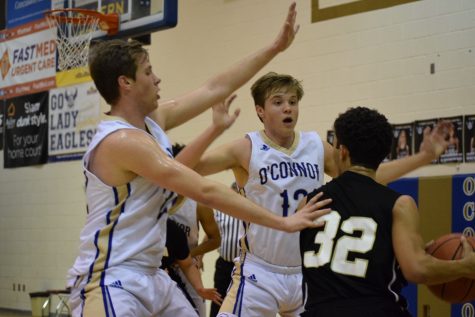 "We felt like we competed a lot better, we played against some of the best teams in the state and last year we just didn't really make that big of an impact on our division," Nick Conger said.
The team still says it was an overall inconsistent season as they started off winning six of their first seven games, which was followed by an eight game losing streak.
"The season's been a lot of ups and downs, we started out great then hit a tough spot, so it's been hard battling through that," Connaker said.
Their final game of the year is Tuesday, Feb. 7 against their rival Mountain Ridge, which they are looking forward to.
"Ridge is our last game so that's going to be an awesome environment to play in, a lot of people come out to that game so that should be cool,"  Jacob Conger said.
In the end, the team hopes to finish the season strongly against Ridge.
"(We're) just trying to finish out the year strong, especially against Ridge, and just cap it off," Nick Conger said.