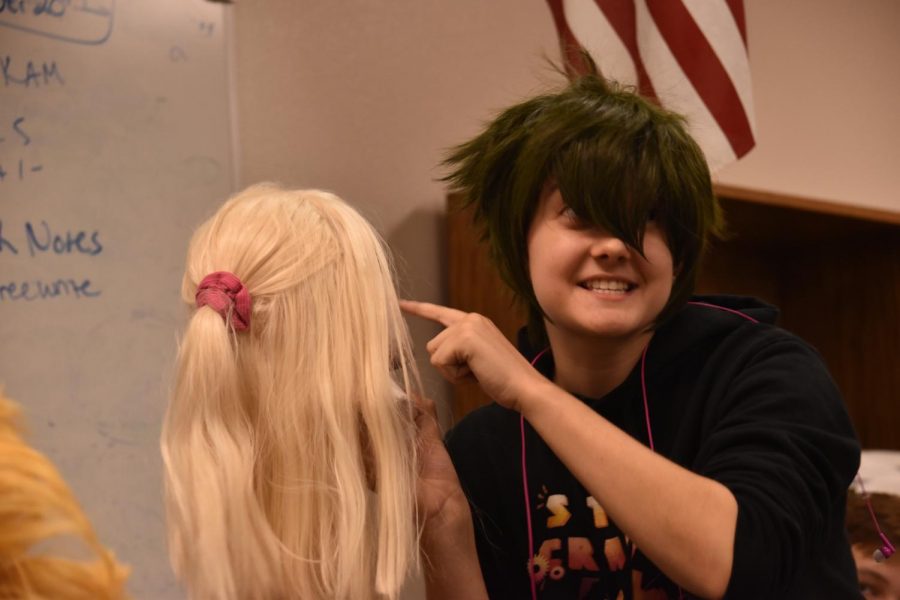 Cosplay Club dresses up like Halloween all year
November 8, 2017
When Halloween comes around it's the one time of year that many will suit up in a costume, but for Cosplay Club it's merely a fantastic opportunity to display their hard work. Even if the October spirit is temporary, in Cosplay Club the spirit of dressing up pushes them forward all year.
Cosplay Club is coming into its third year on campus and has created a veteran team of cosplayers. This team builds ambitious cosplays all year as they meet in Lauren Feliciano's, adviser and English teacher, room weekly. The leaders of the club use their experiences to improve new members.
"My top four people are very well skilled in different aspects. For example: Kylee's (Poppen) great at wigs and styling wigs, you have Sydney (Meech) who's really great at creating patterns and sewing clothing, you have Jordan (Dallmeier) who's very good in visualizing the character and keeping that personality throughout she's very strong with that," Feliciano said.
Feliciano, who is known for her Disney and regal themed cosplays, has, along with returning members, built the club from a small eight students into a full classroom this year.
"I have seen so many great friendships brought together by just this cosplay, and that's how cosplay really is supposed to be," Feliciano said.
She said she has also seen them "grow in leadership and [be] more confident."
Feliciano's biggest piece of advice with cosplay after her years of experience is to work with a team. This is the idea cosplay club is built on.
"Never be afraid to ask for help. That's one thing that I've noticed is a lot of cosplay artists think they have to do it all by themselves and it's all them. From [what] my club has taught me is it's not really a by yourself thing," Feliciano said.
The council that leads the club is made up of the four members aforementioned by Feliciano. Jordan Dallmeier, president of Cosplay Club and sophomore, focuses on teaching etiquette and the basics of building cosplay all under an overarching plan.
"My new goal is to get people to basically start their cosplays and have them finished by the end of the year and if they don't, that's fine we will still help them with their cosplays after the end of the year," Dallmeier said.
She finds that sometimes new members get too ambitious with costumes and they have to scale back. Once the year is over, the group takes a trip to a free event called DevCon where they show off their costumes.
Trick OC Treat Homecoming spirit week presented the club with opportunities on campus.
"I really like it because for other spirit weeks I haven't really been able to do costumes for spirit week and this week it made me feel really good because I was able to use my costumes," Dallmeier said.
The president noted that Halloween is a key time as they start to teach more and the public is more accepting of cosplay.
"We usually start to get more in-depth into costumes for Halloween if they want to be a certain thing for Halloween," Dallmeier said.
Kylee Poppen, vice president and senior, recommends novices ease into cosplay.
"Don't start making your own costumes at first and try to get help from online. Look at tutorials or if you need help ask friends who are into cosplay," Poppen said.
Starting with what she calls "casual cosplay" with normal clothes and few accessories is the best starting strategy.
One leader of cosplay club brings a lot of theater experience: Sydney Meech, secretary and sophomore. Her background has allowed her to help with sewing and other details. Meech said she enjoyed the spirit week also.
"I like the casual cosplays because I think they're really cute and I can tell people put effort into them," Meech said. October is already an important month for the club, but for Meech it is a part of her cosplay origins.
"Finding cosplay was like finding October every month of the year, and I love it," Meech said.
As the last day of October draws near, the leaders of Cosplay Club are more than ready, but for everyone else help is readily available at every club meeting.
"Our door is always open on Wednesdays from 2:30- 3:30 and we try our best to just really and truly accept everybody because we don't like turning anybody away so yeah they can always come. It's just be warned you'll stay," Feliciano said.