Improv's latest show highlights new team dynamics
December 1, 2016
Improvisational comedy, or improv is a pure comedic on-the-spot performance. There are no memorizing lines or places on stage like classical theater, it's each person on stage's own way of making their audience laugh.
On November 30, the theater department's 2016 Varsity and Junior Varsity improv teams debuted in a one night, pay-what-you-want, show.
"[Improv is] spontaneous. It's a brand new show every single time. That's the really interesting thing about being on improv. You go up there and say 'This is going to be a good show' but we don't know how yet. We don't know what's going to be funny or become a meme. It's a refresher from life," said One Griffin, Varsity junior.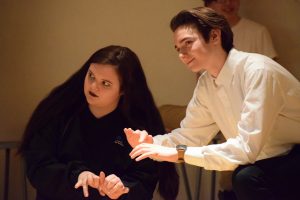 Improv is special to many people in the sense of how unique it is.
"It's not like drama at all. It's really fun, and a way to like creatively express different comedic aspects," said Patrick McMorrow, Varsity junior.  
McMorrow also said that improv lets these students express themselves in new ways, displaying their version of comedy differently every time they perform.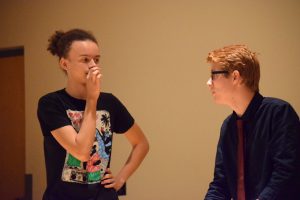 In previous years, the improv students have been known to be hilarious people. This year, they are just as hilarious but the group has a more diverse range of people on the team than years prior.
"[The new members] bring a new dynamic to our type of skits and the relationships between the people on the teams than in previous years. They're all a lot closer and we all have better chemistry and it helps us put on a really fun and entertaining show," McMorrow said. 
Traditional theater and improv are different forms of the art of performing, however, a donation to the improv team is a donation that benefits the whole theater department.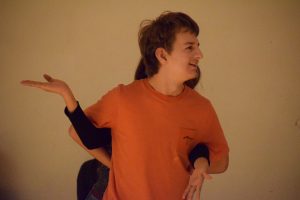 "It's always nice to support the fine arts. Lots of people don't and this is not drama club. People who get bored by theater can support by coming and watching a comedy show," said Zach Dirmeyer, junior on the Junior Varsity team.
Dirmeyer said that theater can be of interest to people who love humor and expressing themselves. He added if theater doesn't interest you, but you love to make people laugh, improv could be a great fit for you and all while helping support the theater program.