Improv show has audience slapping their wits
Getting up on stage and acting is hard; getting up on stage and acting on the spot is even harder. However, the improv team never faltered at this with their charisma and quick thinking being just two of the many aspects keeping us laughing at every improv show.
Wednesday in the mini auditorium, the second-semester improv team put on the Slap on the Wits show.
Currently headed by Bryce Craig, sophomore, the team has never been stronger. Craig's smooth personality got the audience comfortable and interested in the first minutes of the show. From then on we saw the team play a unique set of games putting all of them in entertaining scenarios which showcased their skills.
Slap on the Wits showed us Lauren Coe, sophomore, playing Elmo in the Dating Game which sets one team member up to guess the identity of the three other contestants.
The game Half Life showed us three members of the team in a hurricane scene acted out in 60 seconds and then half that time each following time. Here Craig and Grahm Kenobbie, senior, went mad blaming each other for the hurricane.
No one was afraid to get on stage and embarrass themselves. Such as One Griffin, sophomore, who took a regular scene and became an elephant showcasing the team's willingness to be the crazy ones. This confidence is what kept the show so strong throughout.
For instance, Oscar Winning Moment was played with Craig and Brandon Smith, junior. The two were scrubbing the floor with toothbrushes when suddenly the dramatic 'Oscar' music kicks in and they must act in a scene that could win an Oscar. One moment Smith is offering Craig different brushes the next Craig is posing the question why we don't have American colored toothbrushes.
These on the spot moments are what keep improv an entertaining experience. This team hones their skills to work on the spot and when it comes to the show it pays off. There were no awkward pauses one might expect, just a lightning paced show that had me and the audience laughing non-stop.
Every team member gave it their all on stage but Smith, Kenobbie, and Coe were easily the most notable performances.
At the end of the show there was a surprise return of improv alumni, such as Nathan Crowell and others, who were quick to join back in the last game showcasing the strong camaraderie among this program.
At only $3 there's no better way to spend your evening than to come and watch this fantastic team. Now I'm eagerly awaiting the next show and wondering what Craig will do with the freshmen improv team.
About the Contributor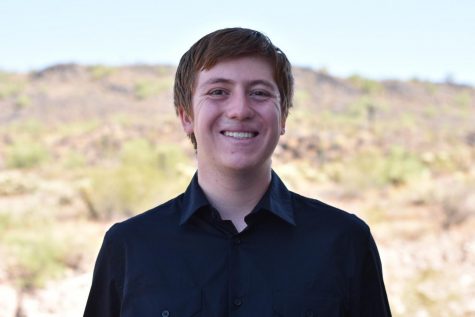 Ethan Gilchrist, Editor-in-Chief
Ethan Gilchrist is the Editor-in-Chief of The Talon for the 2017-18 school year. This is the culmination of a four year journey for Ethan as he reaches...