Eagles serve beach volleyball to the district
Drenched in sweat, feet covered in sand and constantly moving, the four players are in an aggressive mental battle with each other. A battle that's hard, a battle that's fast and a battle that OHS athletes will soon have to face.
In the spring sports season, OHS will be the first school in the district to introduce beach volleyball, at the request of Jamey Spartz, head coach.
"(What inspired me was) the popularity of this game, forthcoming with (the) NCAA and the opportunity for girls to get more scholarships and because the NCAA now has officially announced that they're going to do the National Championship," Spartz said. "It was something I thought would be a great opportunity for girls."
Beach volleyball is different from indoor in that games are on a smaller court made of sand, and that there's two players on each side rather than six.
Ashley Becker, junior and beach volleyball player, says beach volleyball found its way to OHS by gaining popularity among schools.
"It's kind of a newer sport, it's just now starting to become a collegiate level sport and it's becoming popular and we've had our coach, Jamey (Spartz), really pushed hard for us to get this program," Becker said.
Players say beach volleyball gives the opportunity for girls to shine individually that indoor couldn't.
"It's really awesome because girls get to express themselves through beach rather than just court which is more of a team sport," said Jordyn Miller, junior. "(It's) six on six and sand is more individual because you get to play with one person."
Beach volleyball players all agree it's an exciting experience to finally have this team and to be the first in the district to have it.
"It feels great, I'm really excited that we get to have one," said Meagan McCall, junior. "It's really exciting to be a program that can test it out for the first year and I think we're going to be really good,"
Bonding with previous teammates from indoor volleyball is going to be an exciting experience for these players.
"(I'm excited for) bonding with the girls, I think because for indoor I had a lot of fun just being around them and I like being a part of a team so getting to be a part of another team with a new group of girls is a lot of fun," said Alexandria Giannini, senior.
The change of environment for this team could prove problematic, both physically and mentally.
"I think our biggest obstacle will be indoor players transitioning into sand, it's a whole different game so being able to make it so that you're able to play in the sand, it's more of a mental game so you have to have that connection with your partner rather than six or five other people on the court," McCall said.
The team practices Tuesdays and Thursdays before school in the weight room, and Tuesday, Thursday, and Friday after school at Victory Lane. Their first game is a home game against Ironwood Ridge at Victory Lane on March 14.
OHS being the first in the district to have one gives the team a great advantage for getting into state, however.With some obstacles, this beach volleyball team is off to a great start with a dedicated team and support from all parties.
"I think it's cool because we could probably make a run for state," said Samantha Hover, junior.
"I think it would be exciting if this was our first year to get up there."
About the Writer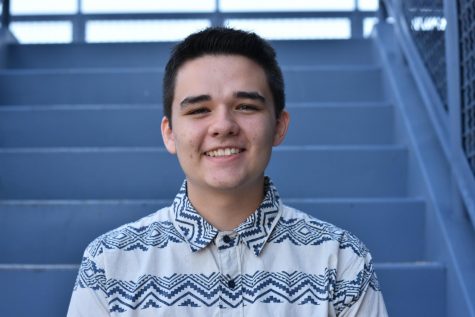 Travis Robertson, Copy Chief
Travis Robertson is a senior and the Copy Chief of The Talon this year. This is Travis's third year in The Talon. Travis joined The Talon because he...