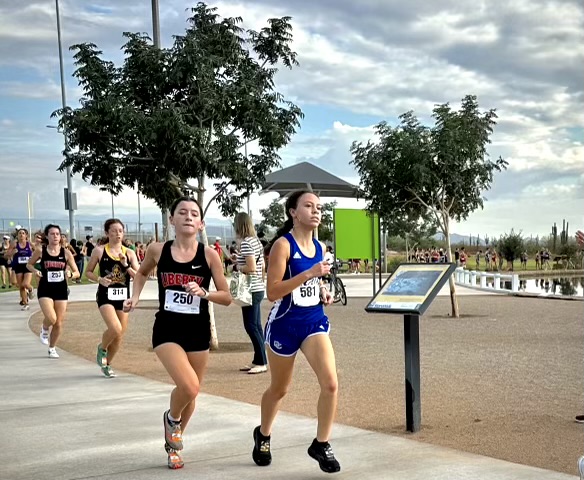 Blazing trails of determination and unity, the athletes of OHS cross country have transformed the track into a symbol of their pursuit of athletic excellence. These dedicated students are a tight-knit crew united by a love for the race and an unbreakable team spirit. OHS cross country is rewriting the definition of athletic greatness with every stride.
The team as a whole are very involved and invested in their sport. The athletes train for extensive hours, but their dedication proves worthy in their races.
"We gotta get up at four am… we do long runs and track workouts. It's really fun and the hard work pays off," said Nya Richardson, sophomore. "Being locked in is the best part of it all."
The bonds formed between the runners also adds to their enjoyment of the sport. Many student athletes comment on how nice it is to have a community of others to inspire them.
Story continues below advertisement
"I like the community the most," said Luca Calero, junior. "There's a lot of people there and waking up at four in the morning gets us closer to everybody."
The head coach for cross country at OHS, Kellen Chavez, wholeheartedly agrees with the sentiment of community on the team. 
"They have to build relationships as a community… it makes the team better because then they can work towards goals as a group," Chavez said.
In the world of sports, the relationship between athletes and their coaches often goes beyond the boundaries of a typical mentorship. It's a unique dynamic, one that combines camaraderie, guidance, and dedication. 
"I love my coach," Calero said. "He provides a certain type of friendship to us."
Other athletes on the team express their admiration for their coach's multifaceted approach. Their sentiments highlight the blend of humor and seriousness that their coach brings to the team making their athletic journey not only instructive but also enjoyable.
"[Our coach] can be really funny but really serious, and it's a good balance of both," Richardson said.
The affection for the coach from the athletes is indeed a two-way street. Chavez stands as the cornerstone of this remarkable team. Coach Chavez's commitment to the athletes goes beyond the track; it's a commitment to their growth as individuals, both on and off the course.
"They're some of the highest achievers academically, they are committed to something that's not easy, and they're just a joy to be around," Chavez said. "I try to have them remember that even on days they're not feeling their best, they're building towards something and there's a lot of positives to get out of it."
Commitment courses strong through the runners. It's a testament to their passion for the sport, as many of these athletes have dedicated a substantial part of their lives to running. For some, the journey began during their formative years in high school, where they first donned the team jersey. 
"I've been on [the team] since freshman year," said Amelia Alexander, sophomore. "I've done cross country since 7th… maybe 6th grade."
Others have honed their skills over years of relentless training, showcasing an unwavering dedication that mirrors the endurance required in their races. 
"I've [been on the team] for all three years that I've been here… but I've been running since I was about nine or ten," Calero said.
The amount of years put into the sport isn't the only defining factor of the runner's. They also demonstrate extraordinary endurance and truly enjoy pushing themselves. 
"Last year I was on varsity, and was first in our state for O'Connor girls," Alexander said. "It was good to be pushing yourself to be on varsity."
In the world of sports, it's not just about races and medals; it's about the relationships forged and the unwavering dedication that defines a team. The OHS cross country team exemplifies this, proving that athletic excellence is not just about winning races, but about the enduring bonds formed and the joy discovered in the pursuit of greatness. Their story on the track is an inspiring testament to the power of unity, determination, and the guidance of a coach who understands them.
"We all lift each other up," Richardson said.