What to expect from fall sports in 2021
As the 2021 fall sports season begins at OHS, so does all of the excitement and buzz around how each of the teams will do. With the ability to function at full capacity and minimal COVID-19 restrictions, athletes and fans are more than a little excited to see how this year's 2021 fall sports season plays out. 
OHS's fall sports teams consist of: football, girls golf, boys golf, swim, and girls volleyball. With a new season starting, all of these teams are expected to make a dazzling debut and represent OHS in their respected sports. 
With football's amazing run to the semifinals last year, this season they are expected to do even better, even under an almost all new coaching staff. With new plays and new personalities joining the team, OHS's football team is expected to top last year's success. 
"I think we're going to have a successful season filled with many challenges that we're fully prepared for," said Christian Makanoeich, senior. 
Being a senior, Makanoeich is eager to kick off his season. Being OHS's varsity team kicker, Makenoeich cannot wait to showcase his skills and how far he's come, this upcoming season. 
"I believe we're going to win a good amount of games and end the season a better team than we started," Makanoeich said. 
Although OHS is very fortunate to have a successful football team, Makanoeich and his team are thrilled to be able to go back to a "normal" season and show off all their hard work, stemming from their upset at the semifinals last year. 
"Having a normal season will definitely improve our performance as the fans and the atmosphere plays a big role in our guys' energy and drive," Makanoeich said. 
With the season going back to normal and fans being able to support their team from the stands, athletes are eager to play and feed off of their fans' energy, which will only make them better. 
Not only is football excited to return back to normal, but so is girls golf. With their season quickly approaching, the girls golf team is preparing to do their damage on the course. 
"I think the outcome of our season will look like us qualifying for state as a team and giving every shot that we take everything that we got," said Sydney-Reese Harris, senior. 
As a senior, Harris is excited to see how her team grows and performs and hopes to see more future athletes take the game of golf seriously. 
"If more people participate in the sport of golf and are competitive when they do, then people may be more serious about the game of golf," Harris said. 
Although golf is usually an overlooked sport, Harris is ensuring that her and her team won't be overlooked this season, and that they will compete to the best of their abilities. Much like girls golf, boys golf is expected to have quite the run this season. 
"We all had good summers on the team and everything looks like it will look good this upcoming season," said Clayton Johnson, junior. 
With the OHS golf team's triumph last year by winning the Deer Valley Cup, it is expected that they follow their success with a repeat of their regional success and maybe even up their game to state championships. 
"I actually like how we're looking this year. We lost a couple seniors last year but we've got a couple new kids coming in and everyone's looking a lot better," Johnson said. 
Although the team lost a few vital players, they are still practicing and staying on top of their game so they can continue their success from last year into this year. 
"We're out on the course everyday, playing, practicing, doing something, always chipping or putting, keeping the game sharp," Johnson said. 
Much like other fall sports, swim is also expected to have a tremendous season. Without as many COVID-19 restrictions, OHS swim is expected to travel more and bring home even more winning titles. 
"This year, there are way less COVID restrictions making it way easier to go to more events and swim against more teams and have more practices," said Matthew Mouritsen, senior.
With the ability to compete in more events, and practice more frequently, athletes have more opportunities to improve their skills and potentially discover new events to participate in. 
"I expect we'll be doing pretty well. Last year we had practice every other day and this year we have practice everyday so I expect we'll be competing a lot," Mouritsen said. 
Although OHS swim also lost a crucial number of seniors, that does not mean that all is doomed. With new athletes coming in, comes new talent. 
"We have fresh talent that can be explored," Mouritsen said. 
Much like all the other OHS fall sports, girls volleyball is also expected to have an outstanding season under their new head coach, Amanda Burbridge. 
"Getting an entirely new coaching staff has been an adjustment for sure and I've played for all of them before so I kind of understand how it works and I've been able to help people understand how she works and how practices are run and things like that, but its been kind of just one big get to know you game the last 3 weeks," said Maisie Jesse, junior. 
With a new coaching staff, there comes new opportunities. With a new perspective on everything, athletes have the ability to learn different aspects of the game. 
"She's gonna take our mental game to a whole new level which is something that we've talked about and something that we need," Jesse said. 
With a new mental approach, girls volleyball is expected to be able to play a spectacular game and go further than they have before. With 12 out of their 17 players being upperclassmen, OHS girls volleyball is more than motivated to leave a lasting impression. 
"I think we'll make a run to the state tournament, we've talked about our goals and what we need to do to get there and I truly believe this team can do what needs to be done to make it there," Jesse said. 
About the Contributor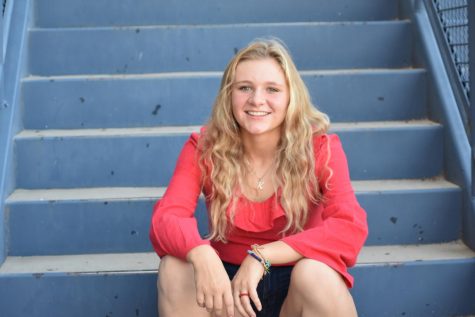 Kaitlyn Smitten, Sports Editor
Hi, my name is Kaitlyn Smitten and I am a junior. This is my second year on The Talon. I am this year's Sports Editor. I spend a lot of my time playing...