Beach volleyball chases a state title
Beach Volleyball is one of the sports that was notoriously canceled because of COVID-19 last school year. With that in mind, this year's team has a new appreciation for what it means to play their sport and compete for a state title. 
Athletes without their sport are like a beach without sand. It's unnatural, and doesn't seem right. These players had to endure this  last season when their opportunity to win a state championship was swept right out from under them. They were a top team in the state last year and they have the same plan this year. 
"This season means more to us than any season before. We have one shot to win state together. It sounds cliche, but any game could be our last and we understand that more than ever," said Emma Soncrant, sophomore. 
The beach team is standing at 9-1, with only one 2-3 loss to Xavier, another volleyball powerhouse. They have not dropped a set in their other matches, winning them all 5-0.
"The team definitely needed that loss to show us we are not the top dogs until we prove it, and it showed us that we have flaws we need to fix before we potentially play them again. An undefeated season is great, but we absolutely needed that reality check" Said Jamey Spartz, head coach. 
Club sports are known to be stressful for athletes and much more difficult than school sports. Beach volleyball is one of the unique sports where club and school seasons don't overlap, so athletes can enjoy the two different experiences.
"My favorite thing about this team is that we are able to have fun while still playing competitive volleyball; it's a special thing to have for a team. We are relaxed but are also working hard all the time," said Sydnee Broadway, junior. 
Although the club and school seasons do not overlap, beach volleyball is unique in the sense that the same sport can be played two different ways, indoor and in the sand. Many players on the OHS beach team play both and some are even committed to playing indoor volleyball in college. Sarah Martin, senior, is one of those players and she is committed to Cal State Bakersfield. 
"Playing beach has impacted my indoor game a lot and helped me read the game better because there are only two players compared to six," Martin said. "It alo opened up a lot more doors for me when choosing a college, because I am committed to play both indoor and beach" 
With 5 players committed to play NCAA Division 1 beach volleyball at their respective schools, the upperclassmen leadership this season surpasses that in previous seasons. 
"The upperclassmen have been with this program for 3 or 4 years and they understand the hard work it takes to be great. They lead by example and show the younger girls how to play with competitiveness and what it means to be an OC sand volleyball player" 
The beach team is currently 10-1 and are looking to extend their winning streak into state playoffs. With talented players in every pair, they are a top team in the state and all the girls are very excited to have the opportunity to compete once again. 
About the Writer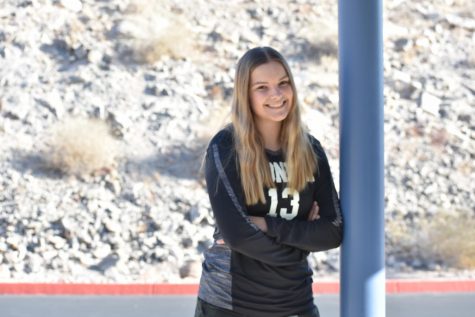 Maisie Jesse, Staff Writer
My name is Maisie Jesse, I am a sophomore and this is my first year on the Talon. I joined because I love writing and informing people of important information....