Boys volleyball aims for state championship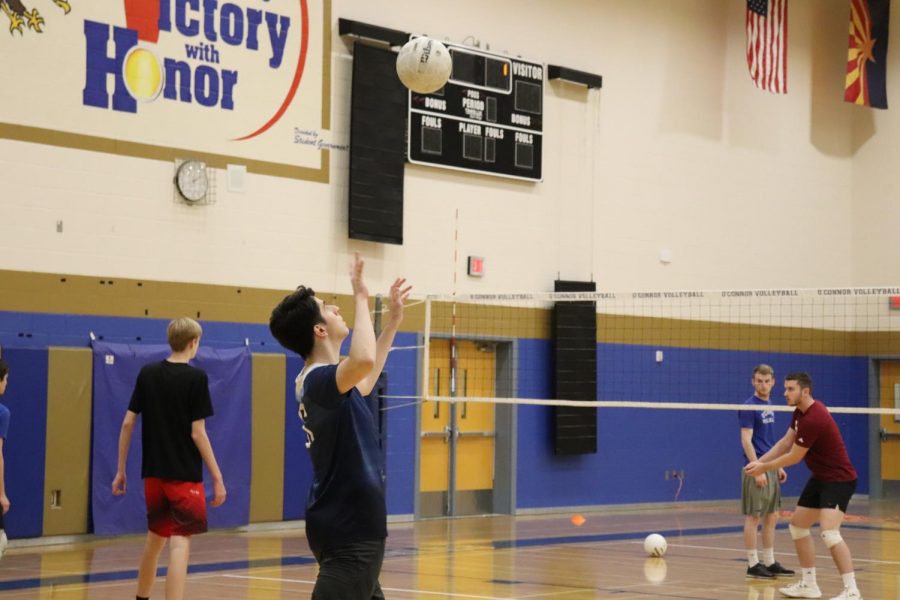 Varsity
The OHS boys' volleyball team has not quite forgotten about how close they came to winning the state championship last year. Their amazing run to the state championship finals last year ended in heartbreak as they lost to Desert Vista. This year, however, the OHS team has high hopes that they will finish the job with their determination and constant practice.
Daniel Chelmenski, senior, still remembers how it felt after last year's crushing defeat.
"Well it was obviously disappointing and everyone was sad, mad, whatever, but I still had another year left so I was just putting my mind on the next year which is this year," Chelmenski said.
The sting from the championship game has not quite yet subsided, but it has made the team even more intent on getting back to the championship this year.
"It just lit a fire under us and wanted us to become successful this year and try harder," said Kolten Christensen, junior.
While the players still are bitter, Trevor Broadway, junior, sees how last year showed the potential the OHS team has for this year and is optimistic about what this team is capable of accomplishing after having grown from last year.
"Well after that it was a good experience to get to the state championship but it kind of stinks to lose but it's good because we learn from that and we're going to see if we can build from that this year," he said.
Last season has also served as a learning experience that has helped players grow more determined.
"It helped us be motivated every practice, and try every hard every practice, and keep pushing every day," Christensen.
Their quest to get back to the state championship started on the right foot as the varsity team picked up a win against Mesa on February 26th. Their early success has been the result of constant practice and hard work.
"Consistent practice has helped us because we worked on things that we struggled last year and things that we need to work on this year and work on stuff to win a state championship," Christensen said.
Every player has become dedicated to that singular goal and are constantly pushing themselves to give their best for their teammates.
"It's just I put myself in a better mindset on practice with my teammates and I try to better myself everyday whether I'm doing good or not," Chelmenski said.
Additionally, many of the players are in a volleyball power training which gives them another opportunity to strengthen their skills.
"That helps a lot too because it gives us make time to do stuff because we have like three hour practices a day now including power training," Broadway said.
All of that time spent with each other has formed a great chemistry within the team
that allows them to communicate well on the court.
"We can comunícate well with each other and it's just easy for us and we can have fun and be serious at the same time," Chelmenski said.
At the end of the day, all the communication, all the chemistry, and all the practice are in hopes of the one thing that evaded them last year: a state championship. And they certainly will not forget about last year until they have achieved their goal.
"[It] made us determined because we worked so hard to get that far and than to lose and then so we basically want to win this year," Broadway said.
Varsity's fell to Chandler in their last game and they will now take their championship hopes to Highland on March 5th.
JV
While the JV team doesn't get the same high expectations as varsity, they still have dedicated themselves just as much to volleyball. They also won their first game at Mesa and have a record of. Their early success has also been the result of practice, hard work, and chemistry.
Practicing everyday after school has proven to help the team strengthen their teamwork and has allowed players to work out what they want to do during their actual games.
"We learn what we want like where we want to pass the ball, where the setter wants to set the hitter and we just get closer as a team and more prepared for the games," said Will Bryant, sophomore.
Additionally, many JV players are also on power training which gives them extra time to work and practice with each other.
"[Power training] helps a lot because we get to know each other beforehand and work together in a class to do volleyball and other team building activities," said Nathan Hatfield, sophomore.
All the constant practice helps bring the team closer together and forge a chemistry that translates to success on the court.
"We have practices everyday single day after school and we do some get to know you'd and we do allot of drills together and conditioning," Bryant said.
By the end of the season, the JV team hopes to have picked up many wins and play well, but most importantly, they look to build a lasting bond for years to come.
"[We] work together, working with different teammates when we practice and stuff like that to get along with everybody and get to know everyone," Hatfield said.
JV has started with a 2-0 record with wins against Mesa and Chandler. Their next game will be against Highland on March 5th.
About the Contributors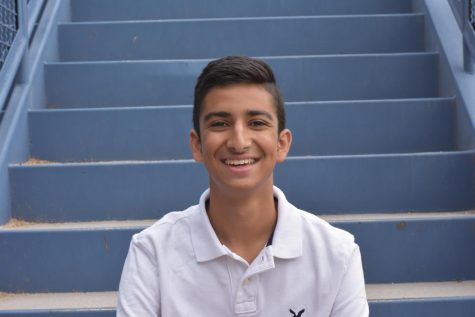 Rohan Patel, Editor in Chief
Hi, my name is Rohan Patel and I am a Co-Editor in Chief and Sports Editor for The Talon this year. I am a junior and this is my second year on newspaper....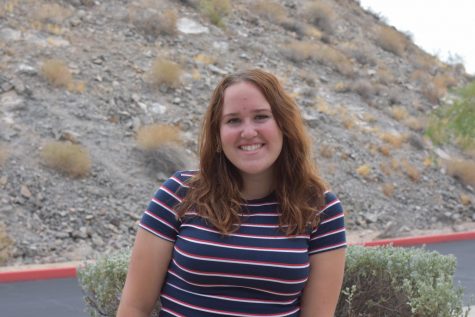 Lexi Gass, Design Chief
Hi! My name is Lexi and I am this year's social media manager and design chief. This is my fourth and final year on the Talon staff, so I am looking...