Boys and girls tennis rallies up a new team
As winter comes to an end, spring sports begin to emerge from the cold. Tennis recently had tryouts, and have compiled JV and Varsity teams for both girls and boys.
Girls
The girls team is composed of mostly varsity members, having only 2 JV teammates compared to the 6 girls on varsity. They expect to bring energy to the courts this season.
"We have a relatively small team this year, so we're hoping that we can do a lot more drills," said Ria Saraswat, sophomore on the varsity team. "We're really hoping that we can practice more, do some team bonding, and really do well this year."
Since much of the varsity team already knows how to play tennis, the girls are hoping to improve their skills.
"We want to focus on getting better, strategy, and drills," Saraswat said. "This year, we are just hoping that we can all just improve, because we are all experienced, and everyone is working to do better than they did before."
Coming up, the girls will compete in a tournament against many other good teams in the valley.
"Tournaments are always so much fun," said Rebecca Gandolfi, senior on the varsity team. "We have some really tough matches, so that should be fun."
Boys
The varsity team has begun practice for their upcoming season, helping a lot of new members improve their skills.
"The new people are showing a lot of progress so far; there are a lot of competitive players out there." said Soren Younger, senior.
Although the team hasn't competed in any matches, they are hoping to perform just as well as they did in the previous year.
"On the varsity team, we have a lot of the same guys that were on the team last year, so hopefully we'll go in the same direction, if not better, than last year," Younger said.
On top of being competitive in matches, the team wants to focus on improving personal skills as well.
"I hope all the guys are happy with where they're at on the team and with tennis," Younger said.
The team consists of two different groups, singles and doubles.
"The varsity team usually consists of 6 people, but this year we have a doubles team, so there are 8 of us," said Shayan Afzal, senior on the varsity team.
The teams are gearing up to play their best this season, ready to take on some of the best schools in the valley.
"We're in the highest division, so we're playing a lot of really good teams," Afzal said. "We need to improve our team and get the new guys so we can be able to win these matches against these really good teams."
About the Contributor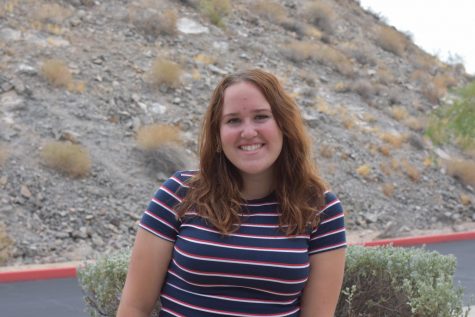 Lexi Gass, Design Chief
Hi! My name is Lexi and I am this year's social media manager and design chief. This is my fourth and final year on the Talon staff, so I am looking...