OHS football comes up short against Hawaiian team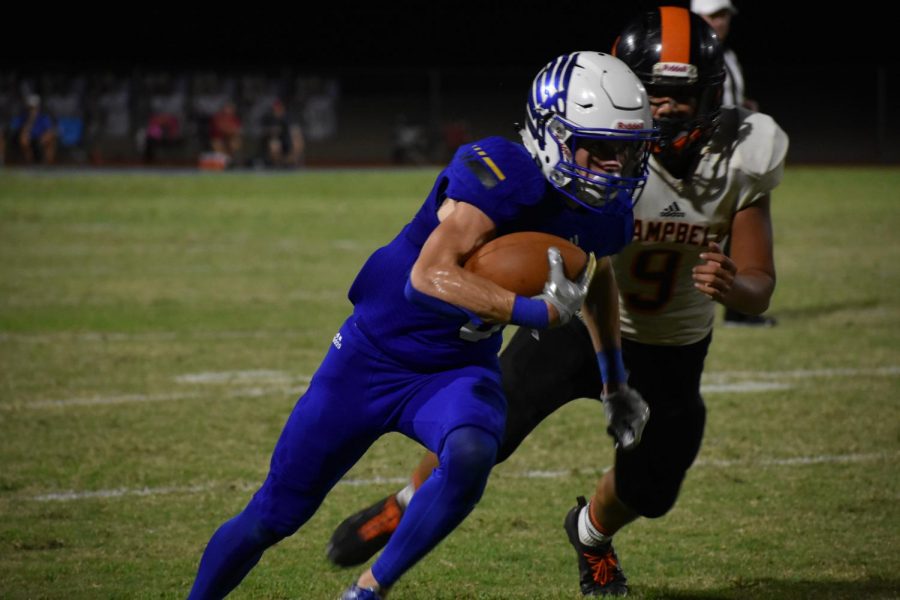 Most NFL teams don't have to travel as far as the James Campbell High School football team, from Ewa Beach, Hawaii, did to play their third game of the season. JCHS crossed an ocean to come to Phoenix where they played the OHS football team in an exciting and unique experience for players from both teams.
The JCHS team arrived on Aug. 29 where they were received by the OHS football players. For the next three days, the JCHS players would be living in a house over 2,900 miles away from their home in Ewa Beach.
Dylan Simonton, junior, was one of the players who hosted some of the JCHS players in his house.
"One of the main reasons [I wanted to host the Hawaii players] is probably just serving my team. I know that this was probably the only way that they could really get here [in a] financially good way. I just was trying to be a little bit of a servant for my team and make sure they had a good stay," Simonton said.
The JCHS players were grateful to the OHS team for housing them, because without their generosity, this opportunity would not have been possible.
"Big thank you to them. It's fun, it's something new, new experiences. All the boys from O'Connor [are] welcoming us and making us feel at home," said Kaniala Kalaola, senior.
While living together, the players from both teams put aside their upcoming game and bonded with each other.
"At first I thought it was kind of weird [living in someone else's house], but we got used to it. We bonded with their families. It was a good experience," Tamatoa Mokiao-Atimalala, junior, said. "Sitting at the dinner table we just talk. All night, about everything and anything."
Jhoven Sausal, senior at JCHS, expressed similar views.
"The people are really nice, they're really nice. Their family was nice, they treated us like family too," Sausal said.
While the players got to know each other better, they also uncovered some of the nuances in their respective cultures and lifestyles.
"It's a whole different culture despite what they tell me. It's just like a different country," said Evan Barnes, senior at OHS.
For instance, the staples taken for granted here were instead foreign to the Hawaiians.
"They eat a lot of different foods, like I took them to Fry's and stuff, they'd never been there they thought it was crazy," Chase Hanson, junior, said.
The Hawaiian players also noticed the differences between the two states.
"Culturally, [in] Hawaii mostly everybody that you see around is that you probably related to them. In Arizona, everybody is just friends," Caleb Jarra, senior at JCHS, said.
But at the end of the day, the whole purpose of this experience was to play football, and both teams were excited to get on the field.
"I'm most excited about just having them over here and being able to prove to the state of Arizona that we can rank within a national level, so kind of to prove a point," Barnes said.
"[I'm looking forward to] playing a mainland team. It's different from back at home playing the same teams, we're finally playing someone new out of Hawaii. So that's a new experience, that's fun," Kalaola said.
The players also had to be prepared to play a team that had a vastly different playing style from their normal opponents.
"Their play style [is different] because in Hawaii it's all strength but in the mainland they have mostly skill and speed," Jarra said.
Krenston Kaipo, senior at JCHS, also noticed that playing the OHS team would be unlike the teams he usually played in Hawaii.
"I think these guys from O' Connor have good size so that's gonna be something different," Kaipo said.
After two long days, it was finally game time. As the JCHS players had been staying in the homes of the OHS players, it would be an odd experience for both teams as they took the field to play against players that had essentially been their family.
"It's gonna be cool [because] we met some of them and it's gonna be a competitive fight out there. It's gonna be fun," Kaipo said.
Before the game, Simonton was also eager to get on the field and go head to head with his new friends from across an ocean.
"It's gonna be cool to have friendships with them while we're playing. Building relationships with them from when we had them [Wednesday] night to Friday night and hopefully it's a good game and good competition," Simonton said.
It definitely was a good game that remained close for much of 48 minutes. OHS took an early lead from a touchdown run by Donovan Esponilla, senior, and then a blocked punt by Bralen Trice, senior, led to another touchdown.
JCHS then was able to get on the board on a 58 yard touchdown pass from Kalaola to Titus Mokiao-Atimalala, sophomore. The second quarter began with the teams trading interceptions before JCHS finally struck after driving the full field and capping it off with touchdown pass from Kalaola.
JCHS added a field goal later, but OHS was ready to strike again as they converted on a climatic 4th down, followed by Tyler Bergstom's, senior, touchdown catch from Ethan Moller, senior.
Halftime arrived with a OHS nursing a 20-17 lead. JCHS switched quarterbacks to Kaipo and relied more on the passing game in the 3rd quarter, though both teams were kept out of the endzone in a scoreless quarter.
The game looked to be in OHS' favor, but a forgettable fourth quarter saw the game blown open by JCHS. Three drives led by Kaipo ended in touchdowns as a JCHS running backs were able to find holes in the OHS defense while Kaipo led an efficient passing game and accounted for two touchdowns.
Trice saw this as one of the main points that brought OHS down.
"We let up a little bit and we thought we had it but we should've kept coming at them hard the entire time," he said.
On the other hand, Moller was consistently under pressure and JCHS held OHS scoreless for the entire second half. By the time the game had finished, OHS' lead had all but evaporated and JCHS went home to Hawaii victorious, picking up a 37-20 win, overcoming 13 penalties and a 13 point deficit.
Communication was a main reason that the OHS defense could not hold off the JCHS attack.
"Communication [is] a key part of football. We could've done a little bit better at that. That would've helped us stay together better as a defense and stop the ball," Trice said.
Despite the loss, OHS did showcase some of their strengths and played a hard-fought game.
"The positive is that we played the whole game, we didn't really give up, it was a close game mostly for the whole game," Damian Ortiz, junior, said.
Ortiz also provided some insight as to what it was like on the field as the two teams matched up, while many of the players knew others from the opposing side.
"On the field we would say 'hi' to each other every so often but it was a little weird going against the players that slept in your house," he said.
Though the outcome of the game wasn't what the OHS players were hoping for, it provided invaluable friendships, experiences, and memories.
"We got to play a team from somewhere else that we've never seen before, see what kind of football they play and just see how to play someone from a different state that's not AZ football," Trice said.