Boy's golf hits a birdie on the way to state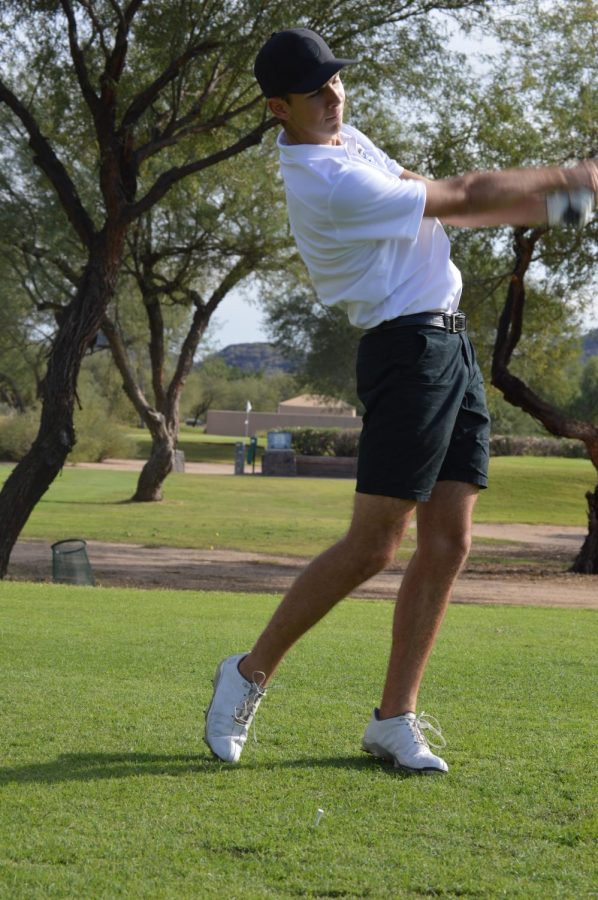 The boys golf team is currently seventh in state out of 51 schools, with only four matches left in the season. So far, out of 11 matches, they have five in which they placed first in, and two matches where they placed in second.
Their first match was a Brophy Invitational, where out of 11 schools, they placed in seventh with a total of 629 strokes. Then on August 31, they played against Apollo, Cesar Chavez and Shadow Ridge and placed in first with a total of 146 strokes.
"This is our year, although we had a lot of ups and downs throughout the season, I know it will all be worth it in the end," said Caden Weber, senior.
On September 5, they placed in first with a total of 147 strokes against Apollo, Valley Vista and Westview. Then on Sept. 12, they placed first with a total of 145 strokes against Central, Independence and La Joya Community.
"We, as seniors, have been through a lot throughout all four years of playing on this team. We have gone through our best and worst times together during this and previous seasons," said Beau Reutter, senior.
Then Sept. 25, which was a home game, they played against Mountain Ridge, Tolleson Union and Westview. They had a total of 154 strokes and placed in first.
Oct. 3, the team went against Carl Hayden, Centennial and Maryvale, which they placed first in/ Then on Oct. 6 and 7, the team was invited to play against 24 schools at Mountain Ridge, which they placed third.
"Golf has really changed the way I act on the field and at school. There is respect and integrity all around and it really carries around personal life and affects character," said Ethan Bishop, junior.