Supporting Winter Sports with Friday Night's Hype
The football team is hyping up the crowd with the energy from their Friday night games to the basketball and soccer games, as they are supporting the playing teams.
As Steve Casey, head football coach, is sending the football team to other sports games, to support the teams as they are ending their season with senior nights, playoffs and hopefully, state.
"We are trying to build a school community of support and know that if we want others to come cheer us on, then we need to go and support them in their efforts. That they need to care and support other teams, clubs and activities on the campus," said Steve Casey, head football coach.
The football team is bringing their hype from their friday night games to the winter sports games, motivating the teams as they are entering playoffs.
"I think Coach Casey is sending us to the games because school spirit and all that is important to the student athletes and I believe it is a good change for the team. Although it is mostly about sports, it should be the whole school supporting each other," said Ben Fuenmayor, football player.
As students are showing up to the games, it really shows the team that the school supports and cares for them and will support them if they either lose or win.
With supporting fans at most of the basketball and soccer games, as well as the wrestling matches, it helps the playing teams feel a bit more motivated and energized for their upcoming game, according to Katie Dube, soccer player.
"I'm really glad that the football team is coming out and supporting the other sports teams, It may not affect the way we play but it does affect the way we feel," said Dube.
According to coach Casey, it shouldn't just be the sports teams, friends, family and Stugo, but it should also just be classmates and teachers, although you may not know some of the students playing, it is always great to be encouraging and supporting the team, it really means a lot for the playing team.
"It's great how the team is going out and supporting the playing teams because it brings us closer to the other teams and because the other teams come out and support us," said Tyler Bergstrom, football player.
While the girls basketball, boys and girls soccer teams are currently in playoffs, the other sports teams, family and peers are motivating them to play their best.
"I think it sets a culture and I wish all of our student athletes come out and support each other," said Chandler Evans, athletic director.
All players of the football team has been having fun and coming out to every single basketball game as they would if the football team was playing on their Friday nights.
"All feedback I have had so far has been very positive – the players are having fun and seem to enjoy what they are doing. Now we need others to join, it is not just a football thing, but an O'Connor thing, friends, classmates and other sport members we hope will join in and have some fun while we support our fellow athletes," said Casey.
About the Writer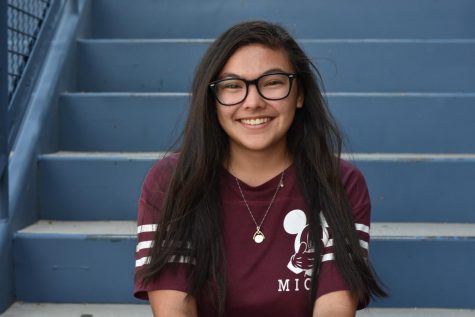 Katie Diab, Staff Writer
Katie Diab is a staff writer on The Talon this year, for the second year. She joined The Talon to do what she loves most, which is writing. She aims to...