Dodgeball tournament provides an Awesome experience
Dodge, duck, dip, dive and dodge!
OHS's annual dodgeball tournament was held last week, with ten teams vying for school-wide bragging rights and the title of Dodgeball Champions before Team Awesome captured it.
"The dodgeball tournament brings a lot of hype to the school, and it gives kids that aren't in school sports a chance to get involved," said Matt Hernandez, Stugo President and Dodgeball Chairman. "It's really one of the only tournaments we do have."
As for the actual dodgeball tournament, it was a night full of fun and excitement, with a championship game between Team ARON and Team Awesome ending the night in dramatic fashion.
With both teams consisting exclusively of baseball players, except for each team's girl, balls were whizzing through the gym like no other match beforehand. It was only an unfortunate sliding catch by Team ARON's Nick Alvarez, junior, that led to Team Awesome's victory.
Alvarez made the incredible catch, but in the process slid out of bounds, prompting referee Mohamed El Nounw, graphics teacher, to make the deciding call in what could go down as the most disappointing end to a sporting event since Blair Walsh's botched 27-yard field goal just weeks ago.
Team Awesome, (with seniors Keegan McCarville, Tanner Baker, Trey Patnoe, Ryan Alexander and myself, and juniors Dawson McCarville and Peyton Evans) came into the tournament exuding confidence.
"I don't even think there's a competition today," said Alexander moments before the tournament. "We're pretty good, being nice about it. It will be an easy W."
It turned out to be an easy "W" for Team Awesome, winning all four of their matches, only losing one five-minute round to Team ARON.
The championship game and Team Awesome weren't the only exciting parts of the night. Throughout the night, fans were consistently humored by the MCing of Josh Epson, senior. He kept the night fast-paced, sung along to the music and danced for the crowd in between games. He even anointed Trey Patnoe the MVP after the championship game, stating he broke the fictitious record of outs held by NBA legend Karl Malone.
In the tournament, the team names and jerseys have as large of an impact on the crowd as the games do. "My favorite part is the team names. The students come up with some pretty interesting ones so it's always funny to see what they come up with," said Hernandez.
With team names such as the Yamadodgers and the Untouchaballs, the students were able to construct some pretty creative ones. Probably the best, however, was "In the Dodge House". Despite their lackluster play, they provided many laughs for the crowd, helped also by the humorous addition of their phone numbers on the back of their jerseys.
The best dressed team was the "Classic Dads", without a doubt. Decked out in their polos and "dad shoes", while being aided by a baby carrier, a set of barbecuing tongs and a pitching wedge, they were able to overcome the typical dad stereotypes and come up with a third place finish before losing to Team ARON (which stands for Admin Removed Our Name), a satiric replacement for their previously deemed "inappropriate" suggestions.  
No sporting event is capable without the control of a couple willing referees. Though every single one of their calls is usually questioned (with good reason, too), the teacher volunteers did their best to keep the games fair, and to keep kids from losing control and exploding with a tirade of expletives at one another.
Stugo once again pulled off a highly successful dodgeball tournament. No matter the circumstances, whether there's forty teams or ten, we can now come to expect a well constructed, well supported dodgeball tournament every year (that will probably be won by a bunch of baseball players).
About the Writer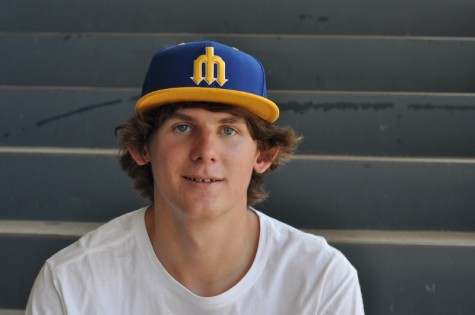 Colby Wyatt, Sports Editor
I am a senior at OHS and this is my first year in the OC Journalism Department. I will be covering sports stories this year, which I'm excited about...