Wrestling enters a new season with a young team
No excuses…Never quit…Who's next?
These team mottos are said all the time in the OHS wrestling room, where wrestlers are pushed until they have nothing left and are completely drained, then they are pushed more.
This season the wrestling team faces a new opponent– Inexperience. The team is now mostly made of freshmen and sophomores with few juniors, seniors, and varsity wrestlers returning.
This year will be an uphill battle, but this challenge is not letting the team forget what wrestling means to them and how they can stay on top this season through hard work.
Aaron Mayer, returning junior varsity wrestler, does not see this season going the same as the last considering the team's big weakness, inexperienced wrestlers.
"Last year we took everyone to state except for two or three kids. (This year) at least six or seven of the thirteen on varsity can go to state," Mayer said. "It's because last year we had six seniors and this year since we're younger there's not going to be as much experience. Younger kids are often times wrestling kids that are juniors or seniors on varsity."
Quade Merrill, sophomore and returning varsity wrestler, says the team being younger is a good and bad thing.
"Our biggest strength this year is mold-ability because we're a really young team so we have a lot of room for improvement and being able to keep up with the different styles that are thrown at us," Merrill said. "(Our biggest weakness is) the same thing, being young and inexperienced we don't have a lot of returning varsity guys. I think we'll struggle a little bit at the beginning of the season but as soon as people start seeing what varsity wrestling is about we should be good."
State is the goal wrestling will always strive for.
"I want this wrestling season to go all the way to state. We have a very young team, but we have a very solid team," said Le Roy Rowser, assistant coach.  "That's our goal every year when we step on that mat, to go to state as individuals and as a team."
Rowser is new to the OHS wrestling family. He brings to the team passion and an intense hunger to push these students to be their best. He also will be as open and coachable as he expects his wrestlers to be.
Returning junior varsity wrestler Cruz Crawford goes to practice for two and a half hours every day, then goes on a one to two mile run every night, and has to always eat healthy. This same brutal practice is what Crawford expects of his fellow wrestlers. However, he doesn't see this practice as stressful.
"I feel (practice is) more of a stress reliever. It takes my mind off all the daily stresses, school, family, pretty much everything," said Crawford. "(During practice) that's when I really have time to myself to train hard to become a champion."
Mayer has one wish for the whole team this season.
"For everyone to have a good season, no bad injuries like there has been in the past, at least half of the team going to state would be good, and possibly either individuals on the team winning tournaments or winning tournaments as a team," Mayer said.
Head Coach Adam Weeden is entering his fourth year as head coach and has been coaching at OHS since the school opened 14 years ago. He says that wrestling is misunderstood.
"Wrestlers are very smart and it's not just a barbaric sport that so many people view it as,"  Weeden said. "It's actually very much of a chess match, there's a lot of mental (aspects) that go into it and to go from being a good wrestler to a great wrestler you've got to have the mental toughness and understanding of all the intellect that goes into wrestling and competing."
Merrill understands very well how much education and wrestling are two pieces of one puzzle.
"The thing with wrestling is it's not about your athletic ability," Merrill said. "I'm not super-fast, I can't jump super high, and a lot of good wrestlers can't but wrestling is all about your confidence and how smart you wrestle."
Merrill adds that there's more to wrestling than just brute strength.
"If you do good in school and you're a smart kid, you're able to problem solve and different things like that, you use that in wrestling more so than anything. It's not just two big strong guys trying to muscle each other over," said Merrill. "There's so much technique, so much reaction, and so much stuff like that, that goes into wrestling. So that's why being smart and education play into that."
Rowser would like to see a rally of support for the wrestling team this year.
"The support (now) is great," Rowser said. "I just want more students to come out and catch a wrestling match."
Rowser wants to see a bigger crowd at matches this year.
"I want that random student that goes to a couple football games a year to come to a couple wrestling matches, that random student that comes to a couple basketball games a year or soccer whatever the case may be, come to a couple wrestling matches," said Rowser.
Weeden and Rowser will always expect one thing out of each wrestler regardless of experience. Leave it all on the mat.
"When a wrestler leaves it all on the mat he is physically, mentally, and emotionally drained, he's done, he has nothing left in the tank, he is exhausted as an athlete, be it a win or a loss," Rowser said.  "That's what it's going to take, it's going to take heart, desire, a little bit of fire, (and) sometimes luck."
About the Contributor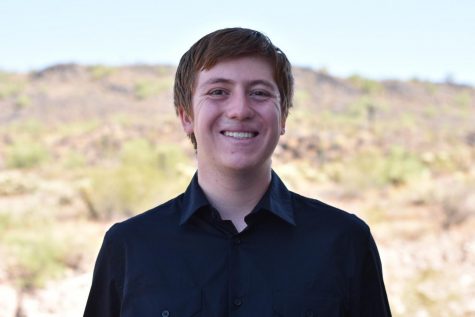 Ethan Gilchrist, Editor-in-Chief
Ethan Gilchrist is the Editor-in-Chief of The Talon for the 2017-18 school year. This is the culmination of a four year journey for Ethan as he reaches...