Badminton plans to ace the new season
Every year, a sports team is bound to have changes but even with changes, the OHS Badminton team has no doubt they can have a season full of success.
For one, Paula Cappelletti, head coach, returned for her 5th year at OHS with a new assistant coach. Cappelletti says the assistant coach allows her to have an extra hand with the girls.
New captains also needed to be selected and voted by their peers, Hannah Carpenter, senior and Susan Chen, senior, filled those openings.
The team has focused on ways to make them stronger, that being conditioning and fundamentals. Breana Miller, junior, says they condition a lot with running laps around the court and suicides.
"We've got a good group of girls this year who have been working harder than any other year, especially on fundamentals," Capalletti said.
Both JV and Varsity are completely new teams. Due to a lot of spots open from the seniors that left, all the girls from JV moved up to Varsity and all the girls from the exhibition team moved up to JV.
"Even though moving up can be challenging because they haven't had the experience, everyone is working really hard to get where they should be," Carpenter said.
The team even established a special bond.
"It's more family-oriented this year, and we're all so close," Miller said.
The team opened up their season with winning both of their first matches. They won their scrimmage against Glendale on Thursday, August 20 and their first official match of the season against Chaparral on Thursday, August 27.
Within the mindset of last year, the team hopes to go back and compete again in the district and state levels. Carpenter thinks the team can perform well and make it into the top 5 of the state.
About the Writer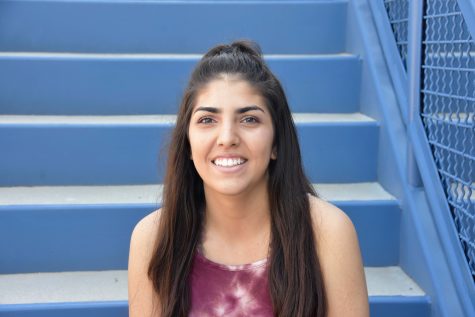 Alexa Fuenmayor, Editor-in-Chief
I'm finally at the top of the food chain this year as I will be a senior at OHS. This is my third year in the journalism department but my second in...