Varsity football takes on Brophy tonight
Football season begins this Friday night at 7 pm as the OHS Eagles take on the Brophy Broncos at Jack Dillard Stadium.
This will be the first meeting between the teams since 2012, when the Eagles lost 56-22.
The Eagles are entering their first season in Division II after going 7-5 last year and reaching the playoffs for the first time since 2010. They return 12 starters and have many senior leaders heading into this season.
"The biggest key is our entire offensive line. Those are our keys players. Year in and year out we go as our offensive line goes," said head coach John Rodriguez. "We've had a couple kids that have been starters for 3 years.
The bulk of that leadership will fall to senior quarterback Bailin Markridge, who Richard Obert from azcentral ranks as the 8th best in the state, after he threw for 2,300 yards and 23 touchdowns last season and returns for his 3rd year as starter.
Also returning is receiver Michael Tytler, who had almost 700 yards receiving and 8 touchdowns as Markridge's favorite target last year.
On defense, junior Trevor Quan is stepping up as a guy that "leads by example", according to senior lineman Nick Pestrivas. The team is looking to compete for their section title.
"Friday's going to be intense, it's going to be fast, it's going to be interesting," Rodriguez said. "Brophy is very very good, very talented players over there, and they're very well coached, so I think we've got our hands full."
The Broncos come into this year ranked 4th in the AIA Preseason Rankings after going 10-4 last year and losing in the state semifinals. Brophy is led by senior quarterback Cade Knox and senior defensive end Connor Murphy.
Knox, a Harvard commit, is the 3rd ranked quarterback in the state and, according to Obert, should put the Eagles defense to the test after throwing for over 2,300 yards and 24 touchdowns last year.
On the other side of the ball, Murphy stands at 6'7", 255 pounds, and is the #1 ranked defensive lineman in the state and will give the O-line a run for their money.
"They might be a little bit better athletically and have a little more depth than we do," Rodriguez said. "But I fully expect our kids to fight tooth and nail and do well."
About the Writer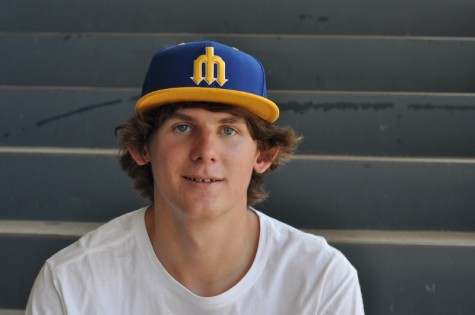 Colby Wyatt, Sports Editor
I am a senior at OHS and this is my first year in the OC Journalism Department. I will be covering sports stories this year, which I'm excited about...