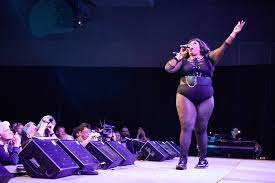 In recent months, artist after artist have been hit with a variety of allegations against them, the most talked about being the lawsuit against Lizzo. Many of these artists are feeling the burn of the statements, taking a massive hit on their careers.
This is the true cost of controversy, and admittedly well deserved. However, the truth is never unwarranted once it gets out to the public, such as the case with Lizzo not treating her background dancers as well as she should, prompting the ongoing lawsuit.
The accusations for the poor treatment behind the scenes include sexual assault, long rehearsals, religious harrassment, and weight shaming comments aimed toward her dancers, all of which supposedly go against Lizzo's beliefs.
This lawsuit brings her entire public image into question. In the past, Lizzo has been known for being a strong promoter of women empowerment, and body positivity, even going so far as to call out the criticism and abuse of herself in these aspects. These new accusations and charges have left many stunned from this new perspective of the artist.
Story continues below advertisement
The importance of the lawsuit is clear as it brings up the poor conditions many face when working with singers. These issues are not talked about enough, and most of the time nothing is done before it's too late.
After the initial charges, more and more of her ex-dancers have been coming out on social media to share their stories, showing everyone just how widespread the issues are while working underneath Lizzo's corporation.
The various personal accounts tell many tales through hearing comments about their weight in ways they described as both illegal and demoralizing, all of which go strongly against Lizzo's supposed beliefs. These accounts are leaving fans to wonder whether anything they previously thought about her is even true.
Many fans are left conflicted, while just as many are dropping their support at the door, causing Lizzo to lose hundreds of thousands of followers. The situation began to escalate even further after Lizzo denied the accusations and essentially called them crazy. However, with so many employees coming forward, it is hard to believe that this is the case.
While Lizzo's controversy was based on several trustworthy accounts, another accusation surrounding singer, Ariana Grande, is admittedly based on pure speculation of her relationships. 
After only two years of marriage, Ariana Grande and her husband Dalton Gomez have separated. Not only that, but rumors are flying that she already has someone new; her Wicked co-star Ethan Slater, though neither has confirmed it.
Though it is certainly early for Ariana to be in her next relationship, the main problem that people cannot help but notice is the timeline of Ariana and Slater's past relationships. Up until very recently Slater, like Ariana, was also married. 
The implications that are forming do not reflect well on either of the stars, especially while starting a relationship together. However, people close to the two have said that they did not get together until after their previous relationships were over, but in this circumstance, it is hard to believe.
Today's romance controversies do not just end with cheating rumors; musician, Doja Cat, is in a recent rumored relationship with J. Cyrus, an artist with several allegations of grooming and sexual misconduct against him.
In light of her rumored romance, many fans wanted her to address the controversy around their supposed relationship, but Doja refused in a rather rude way.
It was not until a fan commented on a post of hers, that she sent out a separate comment, essentially telling fans she did not care what people thought about her personal life, even though her fans were only caring for her well being. 
Fans were already unhappy with the singer for seeming to dismiss the serious concerns surrounding J. Cyrus, but Doja Cat took things a step further by saying that she didn't care about them, nor did she love them in response to a fan.
Another fan added that the same applied to themself, but the difference was that they had always supported her through the years. They went on to point out that without Doja's fans, she would be nothing, and just another no name singer in the masses.
On the surprising side of things, Doja Cat has gone on to attack her fans for calling themselves "kittens", which is weird considering the fact that she sent out a poll asking fans what they wanted to be called, where kittens was one of the options.
In response, several fans deleted their fan accounts. While many were hurt by Doja's comments, others took to her defense by saying she was right to call out parasocial relationships. That may have some credibility to an extent, but Doja Cat took it way too far. 
From comments posted online to real life concerts, artists and fans alike feel the consequences of getting too close to their favorite singers, courtesy of the recent trend involving throwing objects up on the stage during concerts.
In this day and age where artists attack fans, and concertgoers throw things at performers, Cardi B has reportedly thrown her mic into the audience, ultimately hitting a fan. She will not be facing any charges for the incident according to authorities on the grounds of "insufficient evidence".
According to a video taken by a different attendee, Cardi B commented on stage that she was hot, an understandable statement for someone performing a show, and asked fans to throw her some water. Unfortunately for Cardi, one did.
She was hit by water and ice, and in a fit of rage, also captured in the aforementioned video, ended up throwing her mic from the stage, hitting a random fan hard enough to cause them to seek medical attention. 
She is fortunate, considering the past event in which a fan of Bebe Rexha, threw a phone that ultimately caused Rexha to be hospitalized. Unlike Cardi B, he was charged with assault.
While most fans likely do not have any malicious intent, it is still a boundary that should not be crossed. Whatever the situation, one thing is clear; both fans and artists need to learn that it is not smart to throw things at people, whether you are a fan or an upset singer.
Today's world is filled with so many controversies, and some days the bad outweighs the good. This has appeared to be the case lately, because while the idea of scandals is not new, the numerous amount and severity of them, is.