Dutch Bros vs Desert Eagle Coffee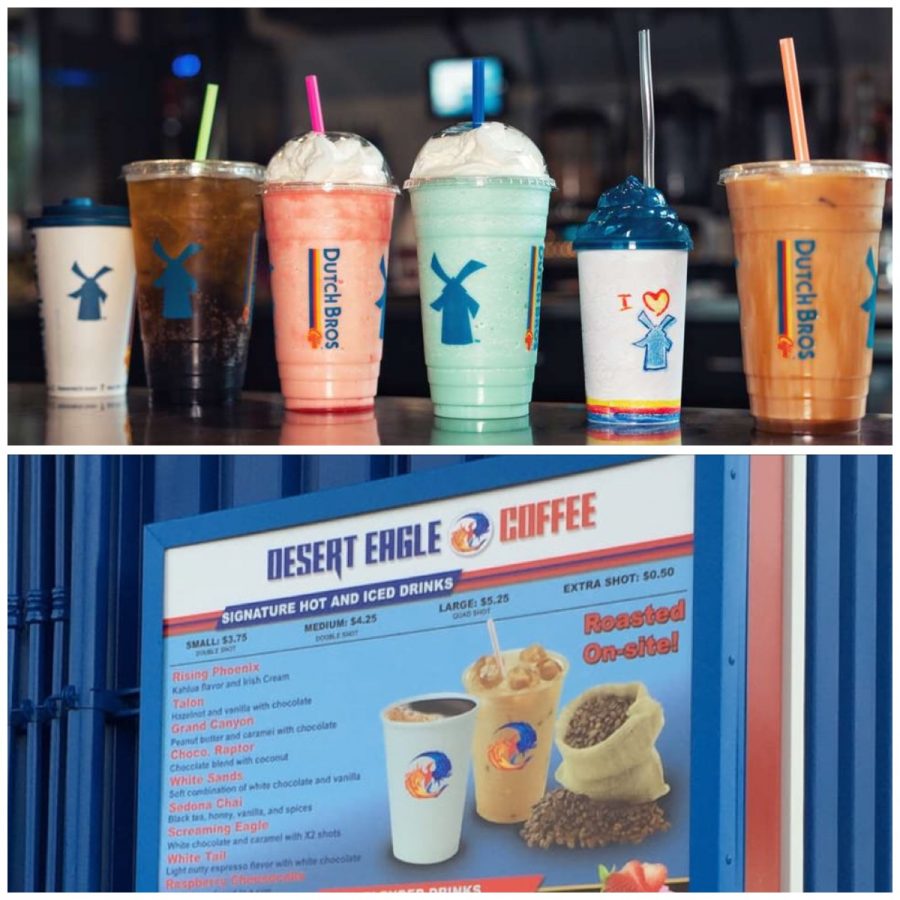 Whether it's the weekend or after school, teenagers and their friends hop in the car to grab a drink. Ranging from coffee, energy drinks, sodas, smoothies and much more, local businesses have what they need. Two particular places that intrigue teenagers are Dutch Bros and Desert Eagle Coffee.
Dutch Bros coffee has multiple valley locations including some in Phoenix and Peoria. The menu varies from mochas, lattes, breves, americanos, cold brews, freezes, frosts, rebels, chais, tea, smoothies, hot cocoa, sodas, lemonades, and drinks for kids. High school students are drawn to these places because of all the different flavors for each drink. After buying 10 drinks, you receive the 11th one free which is kept track on a stamp card. Prices as low as $1.50 going up to almost $10, you can get hot, iced, or blended. They also offer food, such as cookies and little pastries. Although the closest Dutch Bros to SDOHS is 21 minutes away, students still drive the far route to get a drink, the long lines are worth it. The workers are energetic and have the drinks out within five minutes of ordering. With the never-ending drink possibilities, people continue to return for a drink that won't disappoint them.
Desert Eagle Coffee only has one location located on West Bell road. Although there is only one location, this shop attracts many high school students. With drinks such as freezes, shakes, smoothies, chargers, teas, sodas, lemonades, house brews, americanos, and hot cocoas. The price ranging from $2.50 up to $7.25, you can buy any flavored drink in your preference: hot, iced, or blended. The drive only being 16 minutes away from school, the commute is faster. Using your phone number, you can start collecting points every time you buy a drink. The small building has two drive through on both sides, making the lines go fast and leave customers satisfied. With the location being so close to school and the drinks being unmentionable, returning is near impossible. The friendly workers talk while making the drinks. With the amazing service and delicious drinks, Desert Eagle drags you in.
With the up rise of coffee shops, teenagers start to decide where they want to go. The choices are unimaginable from flavors to textures, the choice is yours. Dutch Bros and Desert Eagle battle over which one is better, yet both have heavy business with teenagers and adults coming to buy a drink from all over the Valley. The friendliness of workers and the kid-friendly environment, people are drawn in and spend time laughing and hanging out with friends with a drink in hand. Yet it all comes down to which one is the best and students prefer more.
About the Writer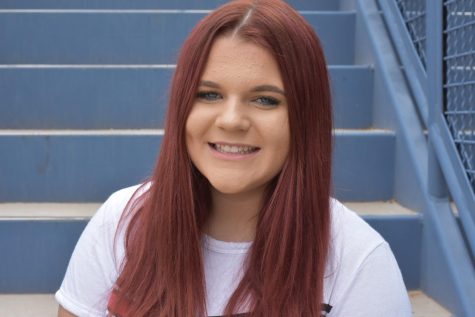 Teanna Meagher, Staff Writer
Hi my name is Teanna Meagher, I am a sophomore, and this is my first year of newspaper. I love camping, going to lakes/creeks, doing makeup, and spending...