Glendale Glitters lights up the holiday season
Glendale Glitters is celebrating 25 years of business. With 1.6 million beautiful Christmas lights hung from every street light, small shop, and trees, historic downtown Glendale is lit up. Everyday from 5 to 11 p.m., the lights glow bright for the families to come see.
The gorgeous wrapped trees surrounding food trucks, live music and joy, bring together families for this cold season. The laughter and smiles on everyone's face makes Glendale Glitters a wonderful place to witness the colorful array.
The steaming cup of coco in your hand and different foods surrounding the lights makes for a good family night. Vendors line the streets with sweet treats, cute little souvenirs and much more that can be given as gifts for the season.
Along the lights are family oriented restaurants to stop and grab a bite to eat with food from all over the world such as Italian, Polish, German, Mexican and even Vietnamese food. With the wide variety of food to eat, families can make their way through the streets full and happy.
Lining 16 blocks of historic downtown are not only lights, but boutiques and shops filled with antique collectibles. Each store is filled with holiday cheer as they have decor and music playing for everyone to hear. People pass through the shops, soaking in the heat before making their way to the next activity.
After awhile, walking can be painful on your feet. Luckily, for $25 they have horse drawn carriages which fit four to six people. Making memories in a carriage, strolling down the street, while gawking at the lights can really bring warmness into your heart. The sound of the horses hooves clicking on the floor and the laughs of children can draw glee from anyone.
The holidays are meant to be celebrated with family and love in your heart. Glendale Glitters is an amazing way to bring families together and a smile on their face.The lights, food, shops, and just the joy can bring anyone into the holiday spirit. And what a better way to end the year than a blanket around your shoulders, a cup of hot cocoa, and the ravishing sight of Christmas lights.
About the Contributor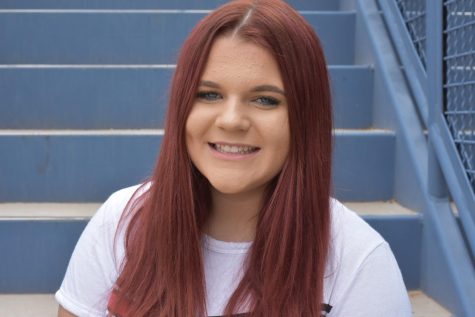 Teanna Meagher, Staff Writer
Hi my name is Teanna Meagher, I am a sophomore, and this is my first year of newspaper. I love camping, going to lakes/creeks, doing makeup, and spending...