Murder of Daunte Wright reignites the BLM protests
On April 11, the life of Daunte Wright was taken after being pulled over due to air fresheners hanging on his rearview mirror, expired registration tags, and a warrant out for his arrest. This has reignited the Black Lives Matter movement and has brought back protests, the majority of them being in Minnesota. 
The day of Wright's death, he was pulled over for two minor issues regarding his vehicle. At this time police also discovered that there was a warrant out for his arrest for illegal possession of a firearm. Wright then jumped into his vehicle after police tried to detain him. This was when officer Kimberly Potter pulled out her gun and shot Wright.
In a video of body cam footage released to the public you could hear Potter say "taser" as she pulled out her gun and shot Wright. It is believed that Potter genuinely thought that she had pulled out her taser to restrain him. Immediately after he was shot she said "I just shot him." Daunte then drove off and managed to get several blocks away from the scene, and then crashed into another vehicle, where he was pronounced dead by paramedics. 
This has stirred up the public because according to CNN, Potter has over 20 years of experience in her profession. Many believe that Potter should not have gotten confused with her taser and her gun because of where police officers have their weapons placed. Police officers alway have their gun on their dominant side and their taser on the other side. The pistol they carry is a Glock 17, which is larger and heavier in size than the taser they carry, which is a Taser X26P. Potter has since resigned from her job and has been arrested and charged with manslaughter.
Many believe that both Wright and Potter were in the wrong. Many say that Wright should have cooperated with the police instead of attempting to flee the scene. It is also believed that Potter should have been more aware of which weapon she pulled out. People on social media and those who are participating in the protests are saying that even though he had a warrant out for his arrest, expired registration tags, and air fresheners in his rear view mirror, it should not have been a death sentence. 
This is also being heavily covered by the media and brought to the attention of Americans due to the fact that the scene where Wright was shot is about 10 miles from where the trial for the murder of George Floyd was being held. Where Wright was killed was also approximately 15 miles from where Floyd was killed after having his neck kneeled on for nearly nine minutes.
It was also brought to the attention of the press that George Floyd's girlfriend, Courtney Ross, had once taught Wright in highschool. She had exclaimed to the press that Wright was "a silly boy, as silly as could be" according to kare11.com. The family of Wright came together with the family of Floyd, along with the attorney for Floyd's family all came together to demand peace for Wright and Floyd. Everyone who spoke on Wright's behalf exclaimed how good of a person and father he was. Heart wrenching speeches from Wright's mother, Katie Wright, his aunt, Naisha Wright, the mother of his one year old son, Chyna Whitaker, and former teacher, Courtney Ross, hit the public and infuriated them even more. 
Both families stated multiple times that they only wanted peaceful protests, but protesters soon started getting violent against their wishes. Bricks and cans were thrown at police and 20 businesses in a nearby mall were broken into. Police launched projectiles into the crowds of violent protesters. 
Black lives are being taken by police left and right and the public is left wondering if this issue will ever be resolved. Police brutality towards the black community and people of color in general is such a big problem in America, and after a year of large protests demanding justice for the victims of unlawful, and truly evil crimes committed by corrupt officers, nothing has changed. Equal rights activists will continue to hold onto their hope for change in the future and justice being brought to all the lives affected by these heinous crimes until there is a significant change in the justice system.
About the Writer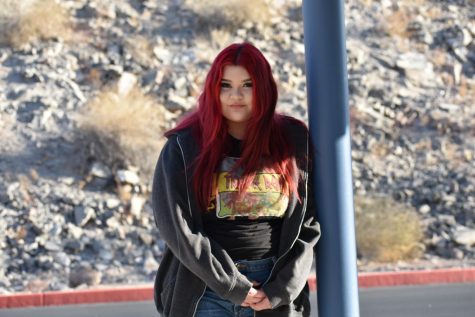 Heaven Parson, Staff Writer
Hi my name is Heaven Parson, I'm a sophomore, and this is my first year on The Talon as a staff writer. I joined The Talon because I love telling people's...