NHS premieres a new study buddy program for students
National Honors Society, or NHS, have been prepping immensely for the school year in order to prepare the students to succeed academically for the rest of the school year.
NHS is starting a new program called Study Buddies, where students can meet at the cafeteria once a month and study with friends or get help. The program starts Oct. 17 in the cafeteria from 2:30 to 4 p.m. It's free and there will be food and drinks provided.
"The whole idea of it is to create an environment where students are comfortable," RJ Javangula, NHS president and senior, said. "In this area, what we're gonna try doing is trying to create an environment where kids can get tutoring, they can study with their friends, they can hang out, eat food and listen to music; it's just a coffee-shop type of environment, but we're gonna make it productive and we're gonna make it academic."
The inspiration for Study Buddies stemmed from the academic backgrounds of its members, as the club is mainly consisted of students in honors and AP classes.
"When the idea came around, it was March, which is when we're studying for the AP tests- the practice ones and the real ones," Javangula said. "Mrs. Knoll stayed after school from 6:00 to 7:30 sometimes and just gives us help in calculus, so my idea was 'what if we did this more regularly throughout the year so that AP and honors kids, and just kids in general, have an opportunity to get help throughout the year so they're not just studying the night before."
NHS has pitched Study Buddies in the hopes that students can be productive and for the club members to have a good time and find the time to study.
"I know the idea behind it [Study Buddies] was to create a student union kind of atmosphere so people can study together and work together or just even socialize but around an academic theme," said Cindy Knoll, NHS adviser. "I would hope that they [the students] would use it to study together. I now study groups are really helpful in a lot of content areas so that students are discussing what they're learning in class and I think that helps deepen their knowledge."
About the Writer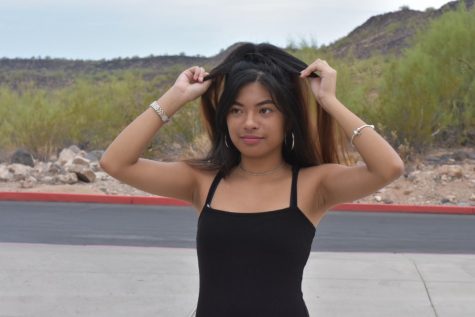 Audrey Serrano, Copy Chief
My name is Audrey Serrano and I am the Newspaper Copy Chief for the 2018-2019 school year! During a free-time, I love writing fiction and playing around...