Artificial turf brightens campus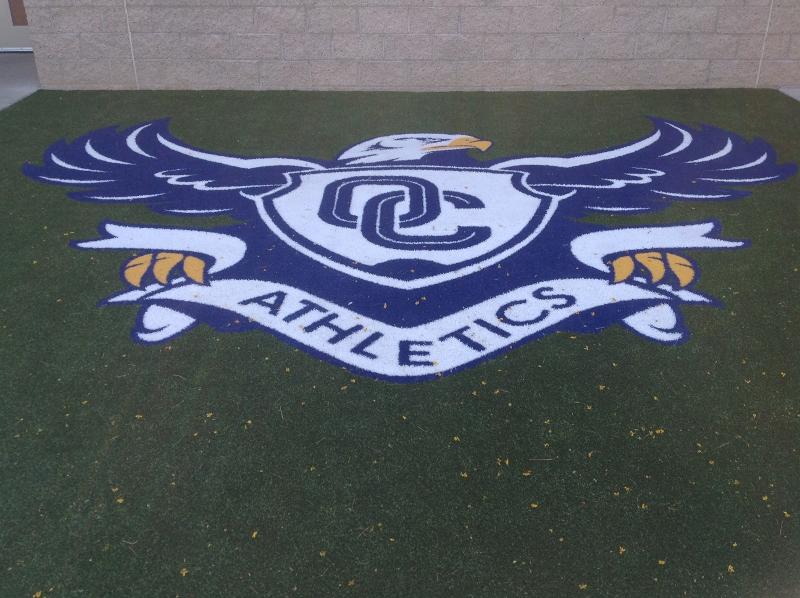 Trey Espinoza, Staff writer
April 13, 2016
As you may know, OHS has been getting many new upgrades throughout the years, whether it be new ways to test, new and improved parts of a building or upgrades to the cafeteria. Recently, after spring break, students were greeted by a new artificial turf athletics logo located outside of the gym where a measly patch of dirt used to be.
"Not only is it better looking but it cuts down on watering and maintenance," Chandler Evans, athletic director, said.
The grass is an addition that helps replace unwanted dirt patches and makes the school a little bit greener.
Being made of the same synthetic material that football and baseball stadiums use in most major organizations, the turf doesn't have to be replaced for very long periods of time and has been used more frequently.
According to Evans, there are plans to add additional turf throughout the campus and possibly to the fields.
With the introduction of the turf it will free up some time for maintenance workers to work on other and more important things. The synthetic material of the grass doesn't require watering, seeds or  sunlight.
The turf is a part of the school's future so get used to those patches of dirt slowly transforming into bright new green patches of synthetic grass.