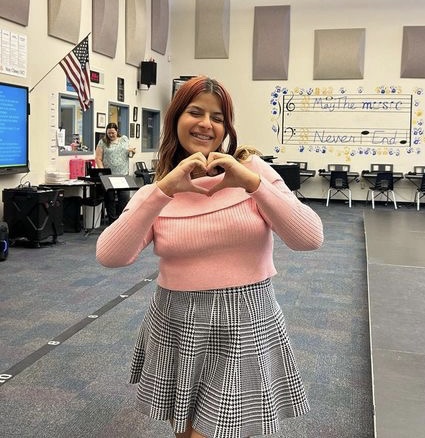 The academic pressure placed on students is already a great deal of stress for many to handle. Add to this the burden of extracurricular activities along with making time for friends, family, homework, and more,is often a lot for students and families to handle. Then introduce chronic illnesses to this  platter of stress and all of this can become too much for one person to handle.
However, having chronic issues does not define or stop students from participating in what they are passionate about. There are many students at OHS that struggle with chronic conditions whether it be mentally or physically, but do not allow that problem to control them. They continue to tread on with a smile, and a head held high. Dealing with something that is completely invisible to the outside world that affects your day to day life takes a toll on you. The way students choose to deal with the hand they have been dealt determines who they are.
"I'm actually really impressed with the students here, because there are a lot of students that have some very serious medical conditions, and a lot of people have no idea because those students have learned to manage them and are still learning to manage them," said Adrienne Jensen, nurse. "They come to school every day; they might have what someone would consider a big event at school and they'll come down here, spend 20 minutes working through that and then they'll go back to school for the rest of the day and that's why their successful students and probably why there gonna be successful in life." 
The amount of determination and drive that these students have to continue moving forward, regardless of the things holding them back, is admirable and inspiring. These students have a powerful want to continue doing what they love even when it becomes increasingly difficult.
Story continues below advertisement
"I also like to be involved with clubs and extracurriculars but that takes a lot of energy out of me," said Rowan Balma, sophomore.
Students who deal with invisible illnesses have unique experiences with what they are forced to go through. The different symptoms and challenges that are forced on these teenagers can be detrimental and hard to go through alone, and sadly a common thread is the extensive loneliness that comes with the burden of chronic illness.  
"I just wish I could relay my knowledge of 'it's going to be okay, things will work out, keep going' in a way that they comprehend that. Sometimes students in high school, and people in general, get in their own mindset and there's a whole world out there. High school is important but, there's the whole rest of your life that can be amazing. And even though it might be hard right now, things will get better," Jensen said.
Students already have so much that they deal with. If you are a senior, you have to worry about graduating and that cycle of anxiety only becomes greater with the added pressure of chronic illness. 
"It definitely takes a toll both physically and mentally whether you're dealing with mental illness or physical illness. They both impact our body and mind," said Shawna Fleegle, ELA teacher.
The problem with the daily illnesses that many students here face is the fact that they are completely invisible. These invisible struggles tend to get swept under the rug because we refuse to talk about them and starting a conversation about the topics that are hard to talk about should be done to help people with their chronic health problems or the mental health problems that are running rampant in our society. 
"I think we have to start to break the stigmas and I think the only way we get rid of a stigma is by being open," Fleegle said. "I'm not saying that everyone needs every detail of your life, by no means, but I know I try to live an honest life."
Again, these invisible struggles are invisible for so many reasons. Whether it be because of the actual illness, being something people cannot inherently see or, the fact that we do not tend to talk about these everyday struggles. Making the invisible, visible could help so many people. 
"Most people don't know that I'm chronically ill until I tell them, because it's not something that you see from the outside," Balma said.