Students honor Hispanic Heritage Month
Hispanic Americans have made numerous consequential additions to American society, and with that, on Sept. 15, Hispanic Heritage Month began celebrating Hispanic people and their contributions. With Hispanic Americans making up as much as 18% of the U.S., their cultural traditions and customs have had an immense impact on American culture. At OHS, students are exposed to parts of Hispanic American culture and the cultures of Hispanic countries through Spanish courses and the Spanish club.
Just as any other minority group in the U.S., Hispanic people have faced and continue to face many hurdles that prevent them from receiving recognition for their work. 
"Hispanic people weren't always acknowledged for the struggles that they've gone through and the contributions they've given to this country," said Alison Paulos, junior. "[Hispanic people] have made so many contributions to American society and they should be recognized for it."
While Hispanic Heritage Month brings a small, dedicated amount of time to celebrate and recognize Hispanic heritage and culture, some Hispanic students view their culture not as something they actively celebrate, but as an intrinsic part of them.
"It's Hispanic Heritage month every month, for me. I go home and my family is eating Mexican food every night; for me it's a normal month, but obviously there is more representation of us in the media [during] the month," said Artuto Whipple, senior. "It's always enjoyable, as a Mexican-American, to turn on the TV and see more people that look like me."
Although the month-long observation can feel ordinary, Whipple still feels that recognizing and learning about other cultures, like his own, is a worthy cause that makes the nation stronger.
"In American culture as a whole, our differences are what makes us stronger, our diversity is important and it's important to understand the history of all of our peoples, especially people who have played such a major role in the development of this country," Whipple said.
Not only can learning about Hispanic culture make the country stronger, but it can also help students who are in any Spanish language course.
"I think that the culture piece is a huge part of the Spanish language in the same way that in an English class we learn about the context of certain rhetorical tools and how those are influenced by American culture," Whipple said. "I think that having culture in Spanish classes helps enhance learning and helps students understand the context of the words that they are using."
Although Hispanic Heritage month comes and goes within the months of September and October, students at OHS continue to learn about the different Hispanic cultures throughout the year.
"In most Spanish classes, culture is incorporated year round," said Robin Naylor, Spanish teacher. "Last week was the Tomatina in Spain, so in many [of the] classes we're going to read an article and see videos. I think when it's time for Dia de los Muertos, we'll talk about Dia de los Muertos. When I do a sports unit, we would talk about some of the famous Hispanic athletes that [students] may be familiar with. In most Spanish classes, the culture is just part of the course."
Learning about culture is an approach to learning that keeps the coursework varied and gives students a chance to incorporate their own interests into the class. Once students have a basic understanding of Spanish, teachers are able to add many more aspects of culture into the course.
"Once you get to [Spanish] 3-4 and up, it's easier to say we're going to do a reading practice and it's about the Aztec ballgame or we're going to do reading practice looking at traditional recipes from Spanish speaking countries—it's much easier. I think there's many ways to use culture to practice language skills," Naylor said.
With all the distractions teachers are forced to compete with, the engagement that culture brings to the classroom is highly welcomed.
"For a lot of students, the most interesting part of the course is the culture. Kids remember cultural activities much more than they do a writing practice—it's more engaging," Naylor said. "Kids are naturally more interested in different cultures around the world."
Several years ago, the Spanish department would host an extensive activity that brought together all Spanish students each hour to learn and experience more about Spanish culture than they would normally be able to in the classroom.
"When we were a smaller department, and the school was smaller, we used to do a Dia de los Muertos activity where all the Spanish students each hour would go to the auditorium and there'd be a presentation and there'd be native speakers talking about their experiences," Naylor said. "We'd have 800-900 students in the gym for an activity, and we'd have a raffle with things that one of the teachers would pick up in Mexico. We would have a little paletta truck, so kids could buy ice cream. It was easier to do that when the school was smaller. Now, because we've grown so much, it's more challenging–but it'd still be a fun activity to do, if we could somehow manage it."
Due to the school's growth in recent years, and the COVID-19 pandemic, large-scale events have ceased to occur, yet Naylor has not given up hope for the future.
"I think two things happened; the school's been growing quite a bit, and we had two years of [the] pandemic," Naylor said. "I do hope and think it will happen [again] because teachers love to do that stuff, too. [Teachers] love to talk about the culture that we know and the cultural experiences we've had."
Learning about Hispanic culture, or any other culture, can better educate students on how to be more conscientious travelers, which is an added bonus to the work of the foreign language department. 
"The cultural piece [to language learning], I think, is huge, so that we don't look like those stereotypical uneducated Americans when we travel abroad and make ridiculous mistakes that with a little bit of education, with just a little bit of knowledge could be avoided," Naylor said.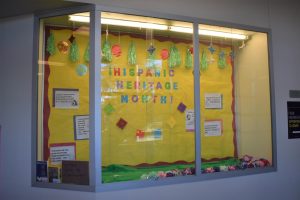 With there being many Hispanic countries, all with unique and diverse cultures, many Americans are not given the opportunity to learn about any other than the U.S.' southern neighbor, Mexico—an issue the Spanish club hopes to solve.
"A lot of us are familiar with some parts of Mexican culture, but most of us aren't familiar with Ecuadorian culture or what's going on in Paraguay," Naylor said. "What [the Spanish club's leaders have] talked about doing is each month having a different country as the focus, which would be really fun." 
After a brief break during the pandemic, the Spanish club has returned and aims not only to engage more students in the Spanish language and educate on the many different Hispanic cultures, but also celebrate those cultures.
"For our first meeting we're going to be making a lot of different crafts from Hispanic countries," Paulos said. "We're making Ojos de Dios, Mexican tissue paper flowers, and we're gonna decorate the display case in the 400 building during Hispanic Heritage month to tell the school and community the contributions that Hispanic people have made."
At OHS, Hispanic and Latino students are the biggest minority group, comprising 13.5% of the student population, according to the Arizona Department of Education. Learning about Hispanic cultures and celebrating Hispanic Heritage month can help these students feel recognized and help create a more accepting school culture.
"I think it's important for everyone in the school to accept different cultures, learn more about them, appreciate them, and celebrate our differences," Paulos said.