Ryan's Rally prepares to raise awareness for mental health challenges
For years, the OHS community has come together at the end of February to raise awareness for mental health and suicide prevention. Last year's event was canceled due to COVID-19, but Ryan's Rally for Mental Health Superheros is back this year with several activities planned that will bring much needed attention to the cause.
Ryan's Rally will be held at OHS to bring the community and the people who knew him together and to remove the stigma around talking about one's mental health challenges. With the stress and anxiety that school can bring, mental health is important to talk about at the high school level. Suicide and mental health can be hard topics to talk about, and the goal of Ryan's Rally is to make it easier. 
"Several years ago my brother, Ryan, died by suicide," Christin Pike, CEO of Mental Health Superheros and alumini of OHS. "One of the things that happened after my brother died was that many of his friends and students would go up to my parents and say 'I was worried about him; I didn't know what to do' and that was really hard for my parents to hear."
A suicide in the community can have an immense impact, not only on the person's family but everyone they knew as well.
"Exposure to suicide can be a risk factor for suicide, and so my family became concerned knowing that a lot of the students, a lot of the people who knew [Ryan], were at risk," Pike said. "Sometimes exposure to suicide can feel like permission."
Knowing that the community was deeply affected, Ryan's family decided to start an event to raise awareness for mental health.
"Our family felt very strongly that from the tragedy of Ryan passing, we wanted to give back to the community and we wanted to have an event where we could bring people together and strengthen each other," Pike said.
Mental health is a huge issue amongst adolescents; Ryan's Rally is one way that members of the community are trying to make resources more readily available.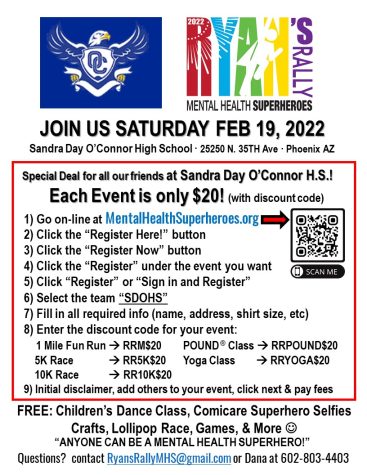 "I know from personal experience that our youth are holding responsibility for themselves and for their friends' mental health challenges without getting additional support that is available," Pike said. "There are a variety of things that you can do to protect your mental health that aren't just [going] to a therapist or [talking] to [an] adult. I know our youth are trying to handle it on their own and aren't aware of the resources that are available to them."
As mental health can be a challenge for people of all ages, the event will be a safe space to talk about those challenges with people who are willing to lend an ear.
"I think mental health goes across all ages; there are kids with mental health issues, to adults and everything in between," said Dana Edwards, Ryan's father. "Having a good time with family or with a group of friends makes it a little more comfortable to talk about. We want to make it a safe environment where people feel comfortable, and they'll be able to talk to one another."
Ryan's Rally will include running races and a variety of activities that get your body moving.
"For my parents in particular, physical effort—like running, bike riding, those kinds of things—was an important piece of the puzzle because we believe that when you move your body, you move your mind," Pike said. "Having the physical health aspect, certainly ties in to the mental health aspect."
This year, the event will be held on Feb. 19, with physical activities planned throughout the morning, from yoga to a lollipop race for kids, the event has something for everyone.
"There is something for everybody," Pike said. "There is a one-mile fun run, so if you're not a runner and not interested in doing [the 5k] we have the one-mile. We also have other events including yoga, with a mindfulness [aspect] so we can talk about mental health as we move our bodies." 
With running and yoga already occurring, Ryan's Rally will also have a new type of exercise that incorporates drumming.
"We also have a POUND class; POUND is like exercise through drumming, which as an alumni of the Sandra Day O'Connor marching band, makes me happy. It's about moving your body to the music through drumming," Pike said. "If you're not a runner then there will still be something for you to do. [Ryan's Rally] is a good place to come for people who value physical health and mental health."
The children's dance class is free; the yoga and POUND classes are $25 each; the 1 mile fun run and the 5k are each $30; and the 10k is $40. The proceeds of the rally benefit a host of different organizations.
"The benefits from [the event] go to the Andy Hull's Sunshine Foundation, which is another organization that is specifically talking about suicide prevention in Arizona," Pike said. "We also benefit the Sandra Day O'Connor marching band—that's a big part of our family tradition, we really like giving back to the school. We're hoping, if we get a lot of participation this year, [to] fund some mental health first aid trainings."
Last year's event was unable to take place due to COVID-19, but Pike is hopeful for a large turnout this year.
"Public events are tricky in the age of COVID, but this is an outdoor event so that definitely lowers our risk," Pike said. "We're shooting for about 250 people, outdoors, running and breathing and having fun."
Ryan's Rally takes place at the end of February annually as a way to remember him and to celebrate his life.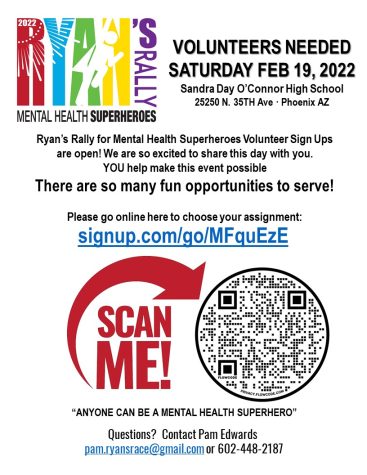 "For [my family], it was very much a 'we want to remember him at this time.' My brother's birthday is February 24th, so we do it in that last week of February, around his birthday, as a time to remember him, but also bring the community together and turn our tragedy into something that is a positive experience," Pike said.
Meaningful conversations are in abundance at Ryan's Rally as people support each other.
"It seems like every year we have conversations with people. The first year we did it at O'Connor, there was a woman who came and signed up and was running in memory of her son who had past away, not from suicide, he had just passed away," Edwards said. "She was dealing with some grief and [the event] was such a great opportunity for us to support her."
From support to physical activity, Ryan's Rally is a community event that benefits everyone.
"[Anyone] can be a mental health superhero; you don't need to have special training," Pike said. "You don't need to know everything about a mental health challenge to step up and talk to somebody you're concerned about."