Amanda Burbridge named new girls head volleyball coach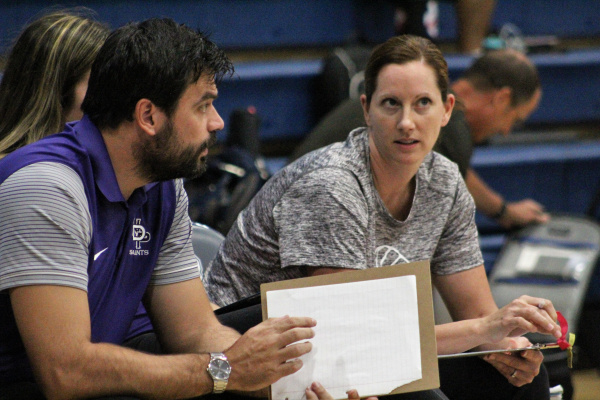 Girls' volleyball is one of the most successful and well known sports on campus, making a run into the state tournament each year. Therefore, when the head coaching job opened up, the athletic department had a difficult and important decision to make, but Amanda Burbridge was ultimately the right fit. 
Burbridge is a nationally recognized coach with 19 years of experience. She earned High School Region Coach of the Year awards in 2005 and 2006 at Desert Mountain, 2016 at Chaparral and 2018 at Notre Dame Prep. She spent a year as the recruiting coordinator at her alma mater, ASU, in 2017, and spent eight years at Phoenix College earning two region Coach of the Year awards there, as well. She played collegiately at ASU from 1997-2000 and has two American Volleyball Coaches Association Player of the Week awards. She is the all-time single season kill record holder, was named an American Coaches Volleyball Association All American in 2000, and was inducted into the ASU hall of fame in 2010. She finished her career playing professionally in Puerto Rico, and now owns a successful local club, Revolution Volleyball Academy. 
Most coaches get into coaching to pass down their love of the sport to their players and Burbridge is no different. However, few coaches know from early on that coaching is what they want or are destined to do.
"I wanted to coach as early as when I was 12. I loved the process of getting better from a very young age and enjoyed the coaches I had. So when I finished playing, I started coaching immediately after," Burbridge said. 
She is passionate about process over results, meaning the process of doing something correctly is more important than the end result of the season or the game. She also cares very much about her players' development on and off the court. Over the last 19 years, Burbridge has had a lot of different seasons with a multitude of obstacles to overcome. As the game continues to evolve, she wants to keep evolving and changing as well.
"I have some things I carried on in my coaching from my career, but every year I change and evolve and keep learning by listening to podcasts I think are incredible and reading books on things like female empowerment, so the coach I am today is not the same from when I started," Burbridge said. 
Volleyball never stays the same with different players and rule changes every year, so being a coach who believes in changing and continuing to learn more each year has been an advantage, and one of the reasons why she has been able to stay so relevant in the sport for so long. When the head coaching job at OHS opened up, Burbridge was eager to apply. 
"I really like working with teams. The business I run is challenging, so when I can take a job where we have one ultimate goal and you really get to create the drive and forge the path for that with a group of athletes, it's a lot of fun and what I really enjoy doing. I also recently moved into the area and live in the school district," Burbridge said.
She had been wanting to get back into coaching high school for some time and taking the job at the school in her community seemed like the best option for her. Burbridge enjoys being a part of the community and being able to contribute to the growth of the school and the volleyball program. 
There is no doubt that Burbridge brings a ton of experience, and her accolades are impressive on their own, but the new mindset she brings to the program is just as valuable. Changing coaches can always be intimidating for athletes, but it is clear that Burbridge values her athletes and wants them to succeed in all areas of life. She wants to be the best coach for the group of athletes she has in front of her, which may not necessarily be the coach she has been in years past. 
"I bring whatever each year needs. Each season brings a new group of athletes and therefore it calls for a different recipe, so to speak. I have some constants, which is the way I hold players accountable and the way I train is pretty much the same," Burbridge said. "But because I am always changing and evolving, each year becomes a little different so what I bring varies as well as what the team brings and that creates a different result." 
Overall, there is a lot of excitement from the athletes about the new head coach. Players are hopeful for the future of the program and their ability to continue to be a dominant team in the state. Burbridge shares that excitement and is looking forward to getting in the gym, and wants the current and future athletes she coaches here to just enjoy the ride.
 "I hope they love the process and each other. Of course if there's a state championship, that would be the cherry on top. But ultimately, I just hope to bring good energy to the program, the school, and the girls," Burbridge said.