Adapting to COVID precautions changes classrooms
Switching back and forth from online and in-person learning, constantly changing guidelines, and an ever growing fear about whether or not everyone is safe, the 2020-2021 school year has been intense and confusing. Leading the pack of students are OHS teachers, mentoring, teaching, and encouraging students throughout all of the craziness.
The constant changes and underlying feelings of uncertainty have made this year very difficult. Each day, teachers are given an updated list of which students are learning from home that day. As new students are exposed to the virus, and others are done quarantining and can return to school, this list is altered every day.
"It is weird because I feel like the number of kids that are pulled out for quarantine is growing each day. It is a little alarming. It is a little scary. I guess the concern is, is it ever going to end? Is this the new norm?" said Dena Davis, art teacher. "This is a lot of work for teachers to keep up with. So, my biggest worry is that this is not ending, and it is just going to continue the whole year the way it is. It is exhausting keeping up with it all."
All classrooms have a mix of online and in-person students, forcing teachers to adapt to the differences in the environment of their students.
"I think it is hard to balance making sure the kids on Zoom are engaged, while also trying to make sure the kids in class are engaged. It is hard to get those kids on Zoom to participate as much as the ones in class. So, it is very hard as a teacher to balance doing both, and doing both well. I just feel like for those kids online, doing art through Zoom is not the same as in person," Davis said.
Online students are working from home, not in a classroom where a teacher can see them all of the time. As a result, these students are trying to learn while having numerous distractions directly adjacent to them. These distractions and lack of supervision have presented numerous challenges for teachers.
"It can sometimes be a little bit annoying to instruct my online students. Only because when you tell them to put their cameras on, some do not want to. Or, they are laying down on their bed and they are supposed to be drawing. And then they want to turn their cameras off, and I do not know if they are really working," Davis said. "It is annoying and kind of aggravating in a sense that I think when they are at home, that learning environment is so different and you cannot control it."
While teachers technically have one class to teach each period, they essentially are teaching two separate groups of students: online and on campus. Because of the different environments and necessities of these groups, catering to each is tough.
"I feel like I am not reaching either group as well as I could. I feel like I could manage online well. But the mix of the two, I constantly feel like I am not doing a service to the kids online as much as they deserve, or the other way around," said Sara Godby, spanish teacher. "So, it is kind of that constant crushing agony of 'I'm failing these people.'"
Whether it be from increased anxiety or a lack of wanting to participate, students learning online are generally less talkative than those in class. 
"People are a bit too hesitant to ask [questions] online, and it is a lot easier for them to ask in person. I think some kids are kind of missing out on that, which is unfortunate because sometimes you cannot tell what is happening until all of the sudden they fail a test," said James Burton, chemistry teacher.
The silence that many teachers receive from their online students means that teachers are having to be more intentional about checking in with each student.
"I want to make sure that I make contact with each student in some way or another each day, even if it is just a simple hello; I want to have that relationship where my students know that I am paying attention to them," Burton said.
Classrooms are usually filled with conversations about learning and daily life, but this year, that has changed. All students, online or on campus, are less apt to speaking up this year, making classrooms quiet and awkward.
"I just think everything has changed though, as far as the atmosphere of my class. There used to be a lot more discussion and conversation and I feel like that has changed quite a bit," Davis said. "Students do not talk as much, I am not sure if that is because of the mask or what. Even myself, I guess, I talk less."
Because everyone has to remain distanced and on their toes about following all of the guidelines to keep each other safe, there have been less opportunities to connect with students in the classroom. Teachers face the same personal connection challenge with online students, but for different reasons.
"I love teaching, and I love getting to know students. Those connections I make are wonderful. It really is such a joy. But, this year has been a challenge because for the first part of the year we could not meet everybody, and most students do not like having their cameras on, and they do not want to participate as much. So, it is hard to sometimes make that connection with students," Godby said.
Many teachers, because so many of their students are online, are unable to get a good sense of a student's personality and character.
"For the kids that I have not had before, I do not know if they are cheating or whatever because I do not have that interaction with them," Burton said. "It is difficult to establish a rapport with them and figure out if they are having a WiFi issue, and if I can really trust that. And of course, I trust them, unless I find something different. It is hard to judge that when you do not have all of that information."
This year's numerous restrictions have made doing hands-on activities difficult. As labs are typically group activities involving a lot of different supplies, science classes have had to adapt to either cancelling labs or changing the way they are done.
"We have been putting off labs in AP chemistry because they are pretty complicated to do online. I have been doing some labs with my honors kids, but it is just them watching me do it and taking down data, as opposed to them actually doing it," Burton said. "So, there is a bit of a loss of that interaction and that type of skill set that we typically do have. It is just them watching me, which takes away from the experience."
As students and teachers must remain distanced, receiving one-on-one help can be difficult.
"We are all distanced, so I cannot even help students as much as I used to. I cannot come over to them and touch their pencil or paper and help them one on one," Davis said. "That has changed quite a bit, which is unfortunate because it is hard to give feedback with art without being able to demonstrate it right in front of them."
Not only have these changes impacted the physicality of classrooms, but they also play a role in the emotional and physical well-being of teachers and students, some of whom, must be extra cautious in the way they go about their day.
"I am a travelling teacher this year. With my husband being sick, I have to be extra careful with everything, and sometimes there is just a little bit of extra anxiety on my side like, 'Did that teacher actually clean the stuff?', or 'Were they sick and then at school?'" Godby said.
This year is scary and immensely different. Naturally, the presence of a deadly virus and the countless changes and unknowns that it carries with it, have brought about a general increase in anxiety and fear amongst everyone, especially teachers. 
"The numbers are growing and we are still immersed in it. And now as a teacher, we are considered essential workers. We are even more exposed, so sometimes I wonder if it is safe for us," Davis said. "These kids are getting pulled out of our classes exposed, they were near us, and now we are still here, but they are not."
Adapting to the countless changes, many teachers have had to change how they instruct their students and organize their classrooms. 
"On a teacher level, it is a lot more stress and a lot more work to try and figure out what we can do now. We used to play a lot of games, but now we can't, so it is a lot more boring," Godby said. "It is sad because I think teaching is fun, and this year has taken away a little bit of that joy. It is a lot more of a traditional 'sit down and do your work' kind of class, which is not my personality. It is challenging."
Taking it one day at a time, OHS students and staff have done a fantastic job adapting and adjusting. In spite of this year's challenges, OHS has had a great start to the school year.
"I think people have been adjusting quite well," Burton said. "Kids are pretty good at just going with it, trying to figure it out, and realizing that even though this is not the way we used to do it, we are going to get through this and it will be alright."
About the Writer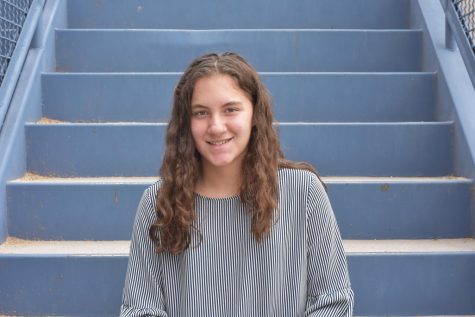 Macy Sanchez, News Editor/ Features Editor
My name is Macy Sanchez. I am a junior, and this is my second year on the Talon. I am the News Editor, as well as the Features Editor this year. I love...