We're All in This Together: Seniors Graduate
It's that time of year where everyone is excited for the school year to come to a close. It is a time of new beginnings for some and final endings for others. For the senior class though it's a mix of both. After spending four years at OHS every senior is taking the next big step forward in their lives.
"It's going to be different leaving all the people that I've known for four years but I am so excited to move on from this school and just go to college and [take classes] that are more relevant to my major," said Logan Frandsen, senior.
During graduation there are selected seniors to deliver the senior class speech, perform the national anthem, and even perform the final song. This year however unlike past years the national anthem will not be sung– it will be played on the trumpet by a quartet of senior boys. Seniors Casey Berke, Davin Song, Kaelen Wilbur, Logan Frandsen, Nathan Lievre, and Tyler Wagner are longtime friends who make up the majority of the senior trumpets in band here at OC.
"Knowing that all the years prior they had singers or choir perform it, it's going to be a very different [experience]. I feel excited that I'm actually going to be able to perform in front of so many people; it's just me and four of my closest friends performing in front of everyone," Frandsen said.
There are seniors that make a difference on this campus. These seniors are friends to many and leaders to all. They run clubs and events on campus; they are the backbone to many of the inner workings at OC and in turn they are leaving four years worth of memories and time dedicated to this school.
"I really learned how to branch out; as a freshman I was really shy and now I can easily talk to people, I work with them, and I make the best out of the experiences around me. My biggest impact is probably on Mock Trial club, it made up a lot of my most precious memories and as far as that goes it is because I did it for all four years and I was able to eventually become president and keep doing it and running it with some of my best friends," said Mariam Joseph, senior.
With four years of experience under their belt seniors know the ins and outs of high school fairly well. They've taken the hard classes, gone through standardized testing, and experienced each year complete with the stress and the fun.
"Focus on academics not just for the sake of your grade but so that you can figure out what you like and what you don't. Just broaden your horizons, try new things, and see which area of study you like the most and if you can even apply that to your personal life you'll go far," Joseph said.
These students are just reaching their first steps into adulthood. There are new responsibilities and experiences ahead of them but the time they spent at OC developed their characters and from that they will be able to continue growing after high school.
"In the past four years I've grown so much as a person through my experiences, through everything that's gone on. Everything that's happened in high school has changed me to become more mature and closer to an actual adult than before," said Logan Frandsen, senior.
About the Writer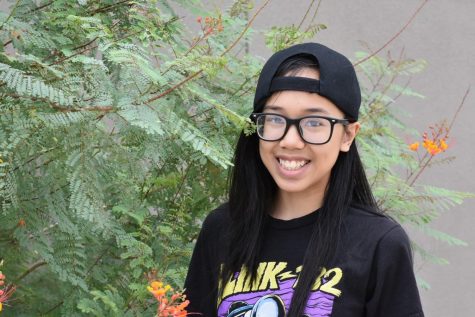 Emily Mai, Staff Writer
Hi, my name is Emily Mai and I'm a senior. This will be my first official year in newspaper. When I'm not writing I'm spending my time either perfecting...