Pure Imagination defies all expectations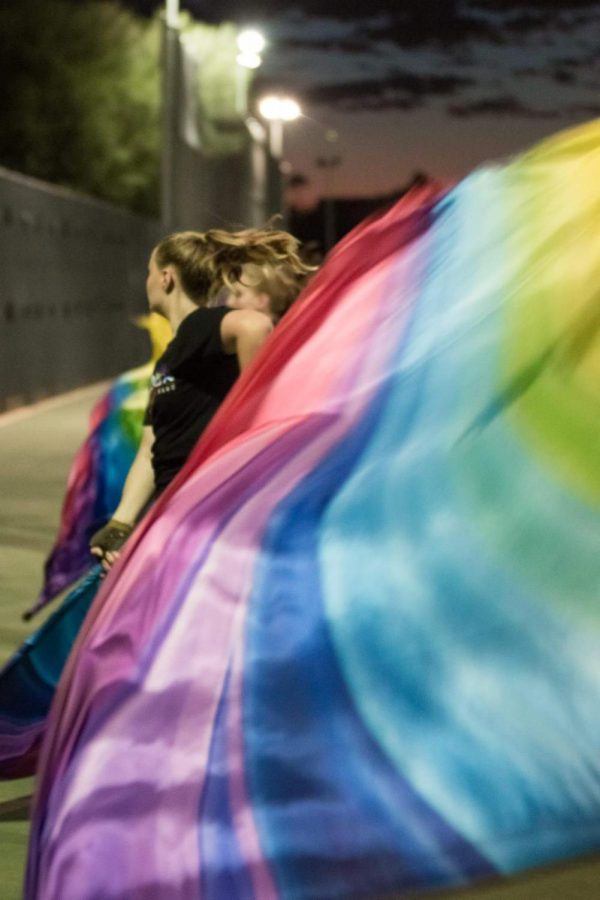 Every year marching band delivers a beautiful show with calculated movements, strong articulation, combined with the theatrics to pull it all together. This year, the show takes inspiration literally from their own brains as the band explores the recesses of the mind and plays with the infinite limits of creativity. The band has already played off the beginning of the season with its first competition held on Sep. 29 at Desert Vista High School.
Although OHS' marching band is held with high prestige within the state, the results of this first competition don't necessarily reflect that. They scored last in their division. Even though this is on the low end, senior and one of this year's drum majors, Kaelen Wilbur, isn't worried and instead hopes to use this as a springboard into a strong season.
"For us we always start out on the lower side of the rank but at least Lauren Kisicki, the other drum major, and I we're both seniors so we've been through it before. We always start out in the last place for the first few weeks but we're the comeback band. I think it's a perfect starting place it gives us room to grow and excel," Wilbur said.
Often times competitions are used to get beneficial feedback from judges that are critical of every movement taken. For a first step into the new season it's more about being comfortable with what each member is doing and that they are preparing themselves for the season ahead.
"Overall the band competition went good for us. This first competition isn't mainly about placing; it's about feedback, growing, and becoming better than what you are. It's just being able to accept criticism and take your show to a new level than what you weren't originally at before," said Rebekah Wucinich, a senior member of color guard.
Practice makes perfect, and even though this show has only been in the works since August the band has been perfecting its technical skills since May of last year. The band altogether had four to five hour practices seven times in the two weeks leading up to the competition, not to mention each section's individual practices.
"We've been working for months on different techniques so that when we get into the larger aspect of the show, it becomes easier and a lot faster… as we got closer to competition we started on the fine details, cleaning different aspects of the show, and started adding extra visuals that really popped and actually gave life to the show," said Wucinich.
After every competition, the band listens to what's called the judge's tapes, which are recordings of what each judge thought of the performance. This way, they can give feedback to the bands. Based on these suggestions the band can change and fix the fine details, but one of the major point deductions for this competition came from the amount of time the band actually performed for.
"We were one of the few bands to not put out our finished show because that's how we do it. We prefer to not rush anything. We prefer to put out things that are clean whether or not it's finished, so we got deductions for not reaching the time but we were only 56 seconds short," said Megan Wildridge, junior and an alto saxophone section leader.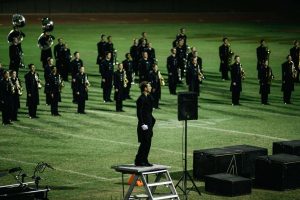 Each year, the show is reinvented and given new life; this year it's called Pure Imagination. With a new concept, there comes an entirely new appearance to the show itself. For this season, the band has sleek black coats from the Academy Drum and Bugle Corps, and rather than the traditional shako headgear, they are trying a clean polished look by slicking back their hair.
"I personally think it's really cool having the slicked back hair, it's interesting, none of the other bands do that… [our show] is about creativity… and breaking away from the norm to explore a new outlook, it just works," Wildridge said.
The show endeavors to reveal the whimsical and fantastical parts of the world and within ourselves by physically contrasting the dark colors and movements with color and magical effect.
"It's about how everyone gets caught up in the illusion that the world is dark and depressing and black and white. It's taking that and using more of your right brain, your creative side, instead of the logical side, and it's utilizing that and getting out of that illusion that everything is dark. I think this year's show has a lot of potential, even if you don't understand the underlying concept people, even non-band people will see it and think, 'Wow that's a beautiful show'," said Wilbur.
About the Contributor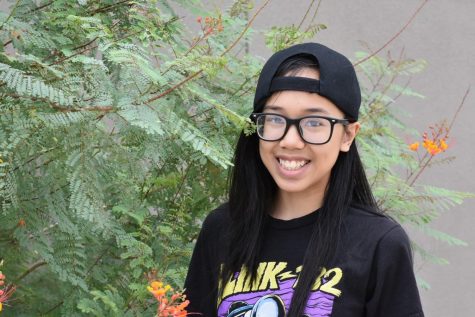 Emily Mai, Staff Writer
Hi, my name is Emily Mai and I'm a senior. This will be my first official year in newspaper. When I'm not writing I'm spending my time either perfecting...