The #OCGetsReal assembly got real
The last assembly of the year was Apr. 1 as it closed the #OCGetsReal spirit week.
The assembly raised the students' spirit the week before standardized testing began.
With #OCGetsReal being the last spirit week of the year, many students took the opportunity to participate in the reality TV themed week. On assembly day, the class colors were splattered all across the school as freshman wore purple, sophomores wore blue, juniors wore red, and seniors wore pink.
The assembly opened with winter guard's performance as flags were flipped and rifles thrown in the air.
"We are all like siblings," said Petie Zufelt, sophomore, "We all get along really well and connect and it shows in our performances."  
After winter guard, drumline performed a routine pumping up the energy for the rest of the assembly.
Following the performances, a video recap of the spring sports was shown as softball, baseball, volleyball, tennis were all highlighted.
Dance performed a number and the senior boys performed a routine that left the students laughing.
The rest of the #OCGetsReal assembly included mattress surfing and bowling with the spring sports teams as athletes used teamwork to beat the other teams.
The assembly closed with the classic class scream that the seniors dominated that ended the spirit week.
About the Contributor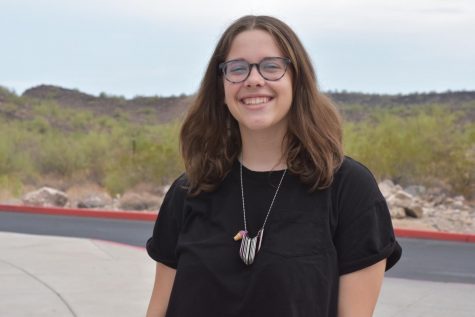 Cassidy Moore, Co Editor-In-Chief
Cassidy Moore is Co Editor-In-Chief with her long term friend Nikki Hazelett. She is excited to begin her fourth year on the Talon and can't wait to see...