Encourage OC excels at elating Eagles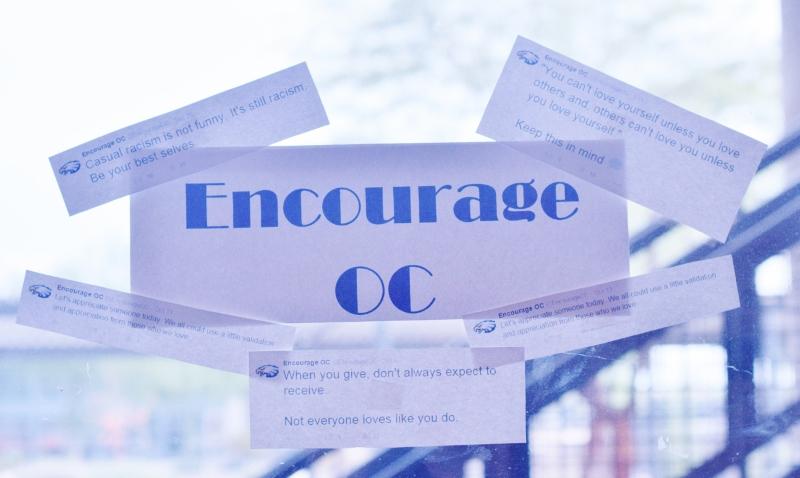 Movements represent generations, give character to groups of people and define periods of time. At OHS, there is a new movement that looks to represent the school in the most encouraging way possible.
Encourage OC is a club that is still in infancy, but has made a massive splash on and off campus, with good merit. Nicole Santillo, president of Encourage OC, was one of the five students responsible for kicking off the organization.
"Last year, it started as Friends of Rachel club, but then we switched it to Encourage OC," Santillo said. "The idea of Encourage of OC has been around since the end of our sophomore year (2014)."
Taylor Eddleman, vice president of Encourage OC, was also part of the group that helped bring the club to existence. Eddleman said that her, Santillo, Alexis Stolfus, Makaela Elkins and Lara Brown, seniors, came up with the idea within their church.
After the assembly for "Friends of Rachel" last school year, everything came together quickly.
"We wanted to do something more encouraging, and we were in the process of starting this club, and then we had that assembly for Friends of Rachel," Eddleman said. "The Friends of Rachel club was given money and a sponsor a lot easier than we were, so we decided that we were going to combine with that club."
Kathy Huntington, Encourage OC advisor, could not have been more thrilled with the idea of sponsoring an organization such as this.
"I was approached by Nicole, Taylor, Michaela, Alexis and Laura because previously they had wanted to start an encourage club doing exactly this," Huntington said. "I thought perfect, we have our leadership built in right there."
Once the foundation of the group was in place, there was only one thought it Huntington's mind.
"We'll make it happen," Huntington said.
Given that the club originally started as Friends of Rachel, the idea of it being "Encourage OC" had to grow naturally, but that was easy to accomplish as it morphed into a larger effort.
"As the club grew and evolved, we realized it was more appropriate to call it Encourage OC, because it's more along the lines of our mission, which is just to encourage people and be a positive part of the campus," Huntington said.
Santillo is very pleased with how everything that the club does is only in the hope of spreading positivity to the entire OHS campus.
"It's not just encouraging students at the school, but it's also encouraging the teachers as well," Santillo said. "Everyone on the campus needs encouragement."
One way that Encourage OC has made an impact thus far is through their popular twitter account @EncourageOC, but that is far from the only aspect of the club.
"I think a lot of kids just think that we're just a twitter that we just run to encourage people," Eddleman said. "We're here to encourage each other and to make a bigger impact on campus than just a twitter account."
Santillo is able to describe several things that the club has done in its limited time so far, like the recent shoe boxes that are dedicated to encouraging teachers on campus, and even hints at much more to come.
"Last year we sponsored a student to go to camp one," Santillo said. "Really, it's just about helping this school and kids here be able to do things that they want to do."
Christina Gennaro, sophomore and new member of Encourage OC, has enjoyed the activities she has taken part in this year.
"We got to do sticky notes and stick them all over school," Gennaro said. "That was super exciting just because I know small things like that often make my day."
Gennaro would also endorse anyone who is considering being a part of Encourage OC to go for it.
""Its really fun and it's a cool experience to get to know people," Gennaro said.
Santillo seconds this, adding that the club would be a great fit for anyone on campus, as the goal is to include every individual possible.
"No matter what other groups you're in or what other clubs you're in, everyone is welcome in this club," Santillo said. "It's not like a clique."
As for how to join, Eddleman explains that the process is relatively simple.
"Just come to a meeting," Eddleman said. Encourage OC meetings are typically held before and after school every other Thursday.
Huntington reiterates that the club is open to anyone at any time, and that she has also been blown away by the volume of students interested in what the club does.
"It's just a great way to start your day," Huntington said. "If you have a good morning where good stuff is happening, you are guaranteed to just have a happier day."
Above all else, Santillo has one message that she would like everyone to know about the club's mission.
"We want to include everyone and make O'Connor a family," Santillo said.
About the Contributor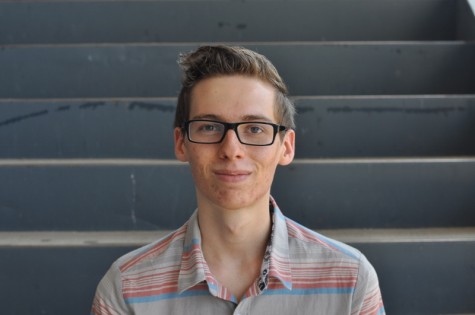 Ryan Temple, Editorial Chief
I am a senior at OHS this year and this is my third year in the OC Journalism Department. I'm now the Editorial Chief, and look forward to expanding...