Multi-faceted student shines on campus
Susan Chen, junior, is a hard-working student athlete with high aspirations for her future.
She has a lot to balance because she is the president of Mock Trial while taking AP courses and is a part of the tennis and badminton teams.
Chen feels as if time management is the key to being able to balance everything she has on her plate.
"Time management is key. Go home get your stuff done and don't procrastinate. That's the biggest thing," Chen said. "Try to finish as much in class so you aren't overloaded when you go home,"
Though this seems like a lot, Chen already has her future career planned out.
"[When] I was 7 years old, I would watch law dramas on TV. I found it so fascinating that these lawyers in the courtroom were sending criminals to jail and I was really interested in that," Chen said.
Even though Chen has known that she wanted to pursue law since she was younger, she seeks great influence from her attorney coach, who helps run Mock Trial.
"Her name is Lisa Counters. She is a solo practitioner so she had her own firm and she's done Mock Trial for many years," Chen said. "She is a really big inspiration because she is always there to support us and she is like a second mom in a way."
Last fall, Chen ran for president of Mock Trial.
"This is Susan's second year as President of Mock trial and I can honestly say she's fantastic, phenomenal, and shows outstanding and enthusiastic leadership qualities," said Patricia DeVito, sponsor of the Mock Trial.
DeVito describes Chen as energetic, determined and organized.
"I helped start the club and they needed a president who was dedicated and very interested in subject, hardworking and willing to branch out and help gain more members and the help make Mock trial known at O'Connor," Chen said.
Maddy Hernandez has known Chen for four years and could not be more proud of her.
"She presents herself in a very professional manner and takes her job as president very seriously," Maddy said.  "Susan is a great leader. When she leaves the club she will also leave a legacy that will be very hard for future presidents to try and match."
Chen feels that working hard is the key to success. Especially when becoming a lawyer.
"You should be willing to work because law school will be really hard, who is dedicated and who is persistent and won't give up when they come across an obstacle, some who is really passionate about law because law is something that you need to really be interested in or you won't be successful," Chen said.
Chen's talent of handling everything stands out. She plans on pursuing her dream at by attending college out of state. This commitment to her future will surely take her far in life, and even maybe to Yale.
"My dream college would definitely be Yale and I'm definitely reaching to go out of state, but I have safety schools, such as in-states colleges, especially ASU," said Chen.
DeVito found a quote to describe Chen.
"Mario Andretti once said, would really describe her, " Desire is the key to motivation, but it's determination and commitment to an unrelenting pursuit of your goal – a commitment to excellence – that will enable you to attain the success you seek. That is Susan Chen, a truly, remarkable, young woman," said DeVito.
About the Writer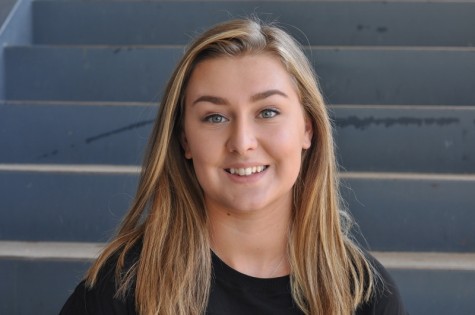 Hayley White, Staff Writer
I am a senior at OHS and this is my second year in the OC Journalism Department. I love to eat, be with friends, take photos, watch movies and listen to...